Robert Krulwich, "the man who simplifies without being simple", has announced he is retiring, at least from his recurring gig at RadioLab, where he has been for the last 15 years.
Not many people graduated from Columbia Law School and then immediately quit to cover the Watergate hearings as a journalist but Krulwich has lived his life the way he approaches science. At an obtuse angle, searching for a better way.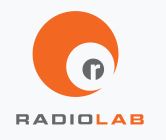 Krulwich, along with Jad, Wheels, and a stellar cast of other producers and creators, made science fun once they became a true team in 2004 - and it has been successful, though just like us and everyone else in the nonprofit world scrambling to raise money, it has had ups and downs. But when things are good is the best time to go, he writes
in his departure letter
. Now he wants to spend time with his grandkids and do some other projects, maybe moderate some panels at the 92nd Street Y, and those sound like a pretty good reason to pull back.
Just don't go back to being a lawyer.