Four years ago, I can't recall having heard of JUUL despite ending smoking, which means supporting smoking cessation and harm reduction tools like vaping, being a cornerstone of my science and health mandate.
Then suddenly they were everywhere. A vaping culture that had no market leader, and certainly did not appeal to young people -
as if Blu using Jenny McCarthy was appealing to anyone except old former smokers
- had a clear favorite almost overnight.
How they got there
has drawn a warning letter from FDA
.
There is no question that vaping reduces smoking and that nicotine vaping is far less harmful than smoking, but if you are going to market it that way, you must submit it as a modified risk tobacco product. Yes, we all know, that they are less harmful but you have to show it. JUUL opted to not do that, and to engage in behavior more aggressive than FDA likes, and FDA is not even against vaping the way CDC is looking for products to scaremonger.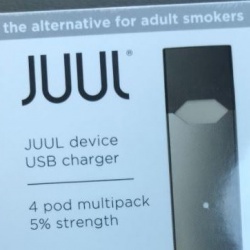 "Regardless of where products like e-cigarettes fall on the continuum of tobacco product risk, the law is clear that, before marketing tobacco products for reduced risk, companies must demonstrate with scientific evidence that their specific product does in fact pose less risk or is less harmful. JUUL has ignored the law, and very concerningly, has made some of these statements in school to our nation's youth,"
said Acting FDA Commissioner Ned Sharpless, M.D.
"In addition, we're troubled about several issues related to JUUL's outreach and marketing practices that came to light in a recent Congressional hearing. We will continue to scrutinize tobacco product marketing and take action as appropriate to ensure that the public is not misled into believing a certain product has been proven less risky or less harmful. We remain committed to using all available tools to ensure that e-cigarettes and other tobacco products aren't being marketed or sold to kids. We've also put the industry on notice: If the disturbing rise in youth e-cigarette use continues, especially through the use of flavors that appeal to kids, we'll take even more aggressive action."
Smoking is a pediatric disease - that is no reason to preempt it with other addictions
It's the school presentation that probably got the bullseye on the forehead of the company. While I have long argued that kids are going to rebel, and kids are going to experiment, and it is better to experiment and rebel with nicotine vapor that cigarettes or drugs, companies should not be targeting kids. Smoking is a pediatric disease and while nicotine is no more harmful than caffeine, Red Bull is not going into school classrooms and making claims about safety.
This is not an endemic problem at JUUL, though
This was a school presentation by someone overzealous, and while it is entirely possible that marketing and sales groups didn't ask awkward questions about the boom in revenue - like, if it's coming from kids - there is no evidence there was a concerted effort to get kids hooked on their products.
JUUL is not like Big Tobacco of th 1950s, and it is unfair to claim they are because of isolated questionable conduct. No one is like Big Tobacco today, not even Big Tobacco.
But if there is even a hint you are acting that way, FDA will put the hammer down, as will lots of people in science and health who support smoking cessation and harm reduction. And if you are 18, want you to be allowed to have at it recreationally too.