How cool were astronauts? If you were born in the 1960s or earlier, just about as cool as you could get.
They were fighter pilots, they were smart, they had The Right Stuff, and if you were an automobile company that wanted to market a car named after a warship, it made sense to get astronauts in your cars.
Almost all of the pictures of astronauts and cars you see in the 1960s are Corvettes and that is because General Motors provided them on lease for $1 a year. Alan Bean, the fourth person to walk on the moon, got a 1969 gold and black Corvette Stingray that matched Apollo 12 astronauts Pete Conrad and Dick Gordon (except for a sticker on the back
to personalize their role in the moon landing
) and now it is going in the
National Historic Vehicle Register
, which is just what it sounds like.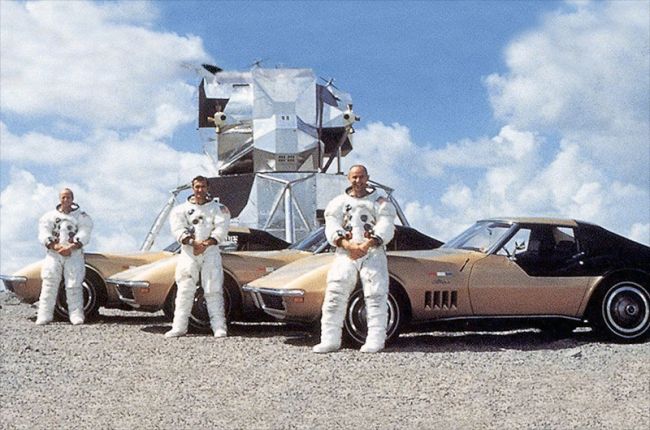 Credit: NASA/LIFE
No one knows
what happened to two of the cars, someone bought them used and they probably went to a junk heap, but Danny Reed saw one at an Austin General Motors Acceptance Corporation (GMAC) lot in 1971 and bought it
for $3,230
- about $20,000 today - which turned out to be Bean's.
It's on loan during the Cars In The Capital event and
you can take a gander next week
. You will probably be a little cooler even standing close to it.
Officially the colors were chosen to evoke the look of the lander and I am not saying they actually chose those colors to honor the Pittsburgh Steelers, but I am not saying they didn't either.