Imagine you have a magic rock and you claim the magic rock helps people sleep. You get a President in office who believes in your magic rock and so allows the government to give you a special exemption from government rules which say magic rocks aren't real.
Then you begin to sell special magic rock labels touting that government halo, and soon groups line up to sell your magic rock labels to magic rock manufacturers for a fee. Along the way you redefine certain periods when you are awake as actually being asleep so you can include even more magic rocks.
Obviously, I am talking about organic food. The Clinton administration, which also eliminated FDA oversight of supplements and threw taxpayer money at a whole government agency designed to try and prove acupuncture isn't a placebo, signed off on a plan to allow farmers who used toxic pesticides they listed as "organic" to get a special government label.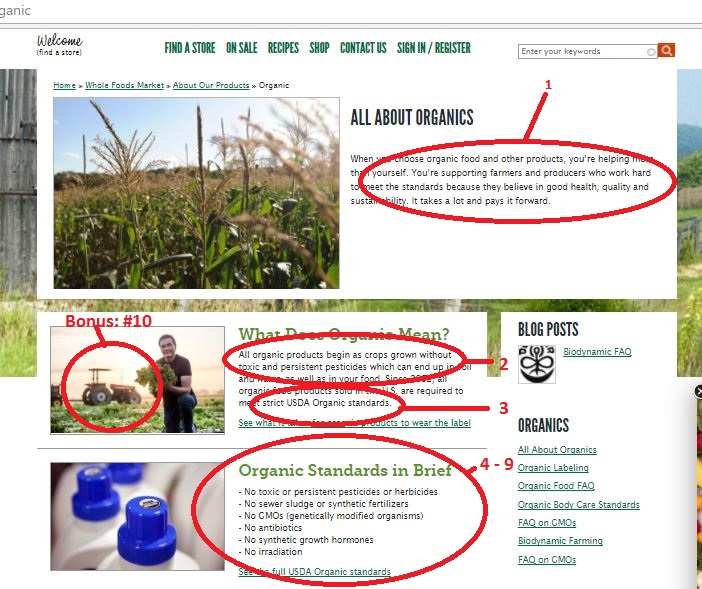 It's not marketing,
it is a flat-out lie
, and if the organic industry hadn't created loopholes to exempt themselves from truth in advertising, they'd be in jail.
It was a huge hit. You can charge a premium just by having the label and they did. People flocked to it and industry-funded epidemiologists even wrote papers claiming it had health benefits. It is all nonsense. Worse, the implication that a pesticide is healthy because it has an organic label is just nonsense. Yet the organic industry protects that claim.
Nearly every consumer would like to know what chemicals are used in food production but the key group opposing truth in labeling are organic industry lobbyists. Allowing organic food customers to know what chemicals are used in their agricultural process would force them to admit they use chemicals. They aren't told now because USDA does no organic farm surprise spot testing of any kind so there is no way to know what chemicals are used. Organic "certification" salespeople only make money selling the labels, so all they do is ask farmers to fill out a form agreeing they don't use any
synthetic ingredients that are not exempted by the organic industry
(there are dozens and dozens exempted despite not being organic) and if the credit card clears, they are an organic farmer.
It isn't better for the environment or for people, despite the mythology created to turn the industry into a $120 billion-a-year juggernaut. Only a few states, like California, even require that all pesticide applications be logged, which is how we are able to know that per calorie, organic food requires up to 800 percent more pesticides than its modern counterpart.
Because there is no testing, and no standards, and the ~80 organizations allowed to certify organic farms only make money if they sell stickers, fraud is easy. If you are buying organic food from Russia or China, the chances you will get a 'regular' vegetable approach 100 percent because there is no certification of those, and it isn't like Whole Foods or Sprout tests anything.
A lack of standards and a fortune spent making sure they keep themselves exempt from conventional agriculture rules is how organic farmer Randy Constant was able to get rich. His only mistake was being too successful. Had he stayed a smaller, more casual fraud, he would still be doing it.
He isn't.
Writing in The New Yorker
, Ian Parker talks about a story we've been discussing for 15 years. And it is even more endemic than the public realizes.