Virgin Galactic officially
debuts SpaceShipTwo
, named the
VSS Enterprise,
fast on the heels of their earlier
ready for liftoff
announcement in Wired. From the Wired article, they noted
In a year, maybe two — barring any test-flight glitches — people who have the right financial stuff will be rocketing daily into space for a few minutes of sensory overload and ego gratification. It may not be the colonization of Mars, but as Siebold says, "did the Wright brothers have Boeing 747s in their consciousness when they flew at Kitty Hawk? No, but it just grows from here; what they achieved made that possible."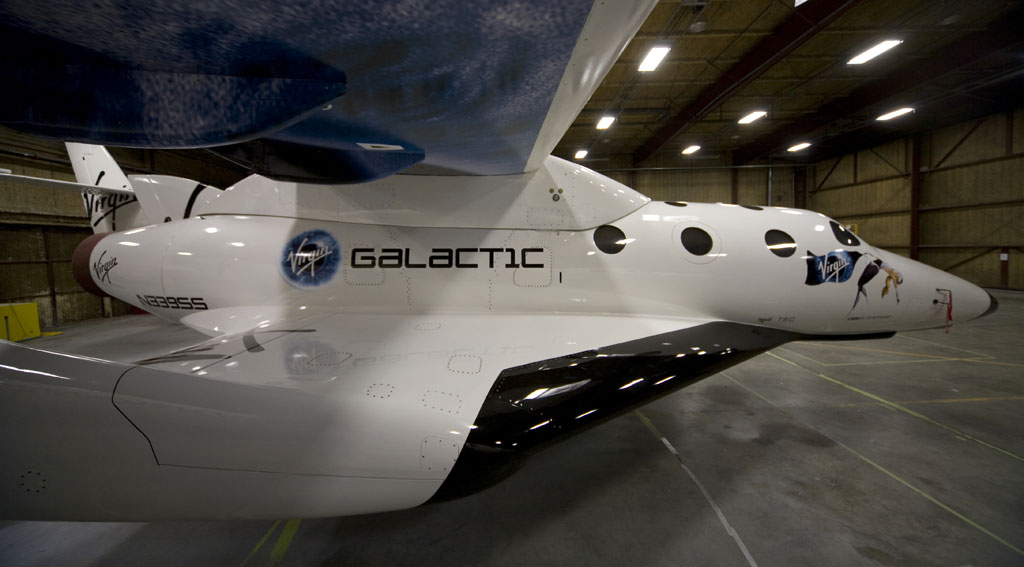 You gotta love that 'who have the right financial stuff' line. I like that space flight will eventually go not just to the few and the proud, but also the rich. At least someone will get to space!
SpaceShipTwo builds on Scaled Composite's X-Prize-winning
SpaceShipOne
design. As
SpaceFellowship
reports,
Commenting on the unveiling, Sir Richard Branson, Founder of Virgin Galactic said: "This is truly a momentous day. The team has created not only a world first but also a work of art. The unveil of SS2 takes the Virgin Galactic vision to the next level and continues to provide tangible evidence that this ambitious project is not only moving rapidly, but also making tremendous progress towards our goal of safe commercial operation".

I don't care how many times they keep unveiling SpaceShipTwo, it's always cool. So what do you do with a spaceship? Fly up, then come back down.
Today's piece in the
New Scientist
has some great behind the scenes quotes, such as:
"Honey, I can't hear you. Emergency evacuation?" Burt Rutan gives me a bewildered look, then hands me his cellphone.

And
Monsters&Critics
has a great photo gallery, including this stormy weather shot, with of course more images from
Virgin Galactic's own gallery
.
I debated giving lots of
futurist insight into the new space race
, but I got distracted by a related post, announcing an auction of brewer Sapporo's
space beer
. So let's toast Virgin Galactic and remember, ever onward and upward!
Alex, the Daytime Astronomer
Tues and Fri here, via
RSS feed
, and twitter
@skyday
Read about my own private space venture in
The Satellite Diaries