About Fred After a dozen years as a market research executive, Fred Phillips was professor, dean, and vice provost at a variety of universities in the US, Europe, and South America. He is now Professor at University of New Mexico, a Senior Fellow of the IC2 Institute of the University of Texas at Austin, and Visiting Professor at SUNY-Stony Brook's Department of Technology and Society. Fred is Editor-in-Chief of the journal Technological Forecasting & Social Change. He is on the editorial boards of International Journal of Global Environmental Issues; Journal of Sustainable Technologies for Growing Economies; and World Technopolis Review. He authored the textbook Market-Oriented Technology Management (Springer 2001); the popular title The Conscious Manager: Zen for Decision Makers (General Informatics 2003); a book on high-tech economic development, The Technopolis Columns (Palgrave 2006); and (as editor, series editor, and author of several of the chapters) Managing Innovation, Technology, and Entrepreneurship (Meyer & Meyer 2009). His newest book is What About The Future? A primer for planners and other thoughtful people. Fred has been a consultant to such organizations as UNESCO, Intel, and Texas Instruments, and has consulted worldwide on technology-based regional development through his firm, generalinformatics.com. He is a founder of the Austin Technology Council, and was a Board member of the Software Association of Oregon. Fred attended The University of Texas and Tokyo Institute of Technology. His mentors were Operations Research pioneers Abraham Charnes, W.W. Cooper, and George Kozmetsky. He earned the Ph.D. at Texas (1978) in mathematics and management science. His own contributions in Operations Research include "Phillips' Law" of longitudinal sampling, and the first parallel computing experiments with Data Envelopment Analysis. Married to Sue Phillips since 1979 and with two grown daughters, Fred enjoys his mission as an educator. In recent years he has taught or spoken at universities in Mexico, Peru, Suriname, the Netherlands, Malta, Cyprus, Egypt, Kuwait, Tanzania, Japan, Korea, Taiwan, Guatemala, and Vietnam. His avocational passions are aikido, Argentine tango, travel and writing.
Search For Articles By Fred
Recommended Books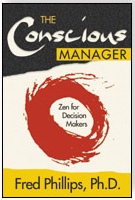 The Conscious Manager: Zen for...
by Fred Phillips
Affiliates Fred hasn't added any affiliates.
Fred's Friendlist














Click here to see Fred's entire friendlist