About Fred
After a dozen years as a market research executive, Fred Phillips was professor, dean, and vice provost at a variety of universities in the US, Europe, and South America. He is now Visiting Professor at SUNY-Stony Brook's Alan Alda Center for Science Communication, and at Stony Brook's business school. The Russian Academy of Sciences awarded Fred the Kondratieff Medal in 2017. Fred is Editor-in-Chief Emeritus of the journal Technological Forecasting & Social Change. He heads the thinktank/consultancy TANDO, Inc.,
www.tando.org
. His newest books are What About The Future? A primer for planners and other thoughtful people, and Learning and Teaching Aikido. Fred has been a consultant to such organizations as UNESCO, Intel, and Texas Instruments, and has consulted worldwide on technology-based regional development . He is a founder of the Austin Technology Council, and was a Board member of the Software Association of Oregon. Fred attended The University of Texas and Tokyo Institute of Technology. His mentors were Operations Research pioneers Abraham Charnes, W.W. Cooper, and George Kozmetsky. He earned the Ph.D. at Texas (1978) in mathematics and management science. His own contributions in Operations Research include "Phillips' Law" of longitudinal sampling, and the first parallel computing experiments with Data Envelopment Analysis. Married to Sue Phillips since 1979 and with two grown daughters, Fred enjoys his mission as an educator. In recent years he has taught or spoken at universities in Mexico, Peru, Suriname, the Netherlands, Malta, Cyprus, Egypt, Kuwait, Tanzania, Japan, Korea, Taiwan, Guatemala, and Vietnam. His avocational passions are aikido, Argentine tango, travel and writing.
Search For Articles By Fred
Recommended Books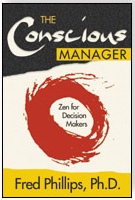 The Conscious Manager: Zen for...
by Fred Phillips
Fred's Friendlist














Click here to see Fred's entire friendlist