The Primordial Soup theory of the origins of life on earth has been cooling for years. Probably, by now, it's too cold to reheat.
Abiogenesis, or the study of how life originated from Earth (and Universe) stuff, connects the Earth and Life sciences, for me.
A research team from the University College, London focused their new research into the origins of Earth life on
deep sea vents
, where geochemical gradients across microscopic caverns could have acted as catalytic cells, generating precursors of the carbon and energy metabolism found in all organisms, which the first true, free-floating living cells internalized, they conclude.
Freelance science writer Richard Robinson gives a comprehensive, straightforward summary and explanation of past and current abiogenesis theories in
PLoS Biology
, "Jump-Starting a Cellular World: Investigating the Origin of Life, from Soup to Networks," published November 15, 2005.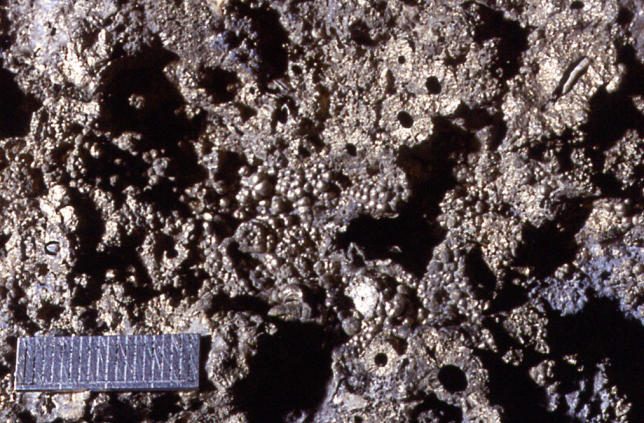 A view from above a chimney field, showing the chimneys (round black circles) and bubbles, which contain chambers. The object placed for scale is two centimeters across. These fossil chimneys were formed well after life's origin, but may be similar to those in which, according to one hypothesis, metabolism first began (by Richard Robinson in PLoS, Nov 2005, via Wikimedia Commons).
What is wrong with the soup?
Conceived independently in 1924 by Russian chemist Aleksandr Ivanovich Oparin and British biologist J.B.S. Haldane, the soup cauldron scenario swirled gaseous methane, hydrogen, and ammonia together with water vapor over the 3.5-3.8 billion-year-old Earth (when there was still little or no oxygen in the atmosphere). Power sources, such as lightning or ultraviolet radiation or volcanic energy, would have sparked chemical reactions, producing complex organic molecules that fell with rain and sloshed into a prebiotic gumbo of life's essential ingredients (such as amino acids, nucleotides and lipids), which simmered a gradual chemical evolution of life into being.
In 1953, the Miller–Urey experiment showed that laboratory simulations of the early Earth's conditions, as hypothesized in those days – electrode "lightning" sparks and heating and cooling cycles applied to methane (CH4), ammonia (NH3), hydrogen (H2) and water – produced an array of complex organic compounds, when left to run continuously. The Primordial Soup theory heated up after this pioneering study was published.
Since Miller and Urey, scientists have experimented with alternative starting conditions and scenarios of Earth's pre-life days, and some of those simulations have generated complex organic molecules, also.
In May of 2009, scientists at The
University of Manchester
announced that they had synthesized two of the four building blocks of RNA from chemicals that would have existed on Earth four billion years ago. Their research was published in the May 14, 2009 issue of the journal
Nature
.
But a primordial cauldron – or complex system – of self-catalyzing, self-replicating organic macromolecules could not chemically evolve into the first living organisms without a sustained energy source.
Could hydrothermal vents birth life?
Since organic molecules are unstable at high temperatures, hydrothermal vent fields – where magma rises up between spreading crustal plates and the Earth's unfaltering heat provides steady energy – were once thought to be too hot, dark and harsh an environment for life to survive, let alone arise. But submarine diving researchers diving in the 1990s discovered many thriving
hydrothermal vent habitats
, crawling (and swimming) with uniquely adapted species.
In some hydrothermal vent scenarios, the unstable organic precursors of life are not formed in the 300C to 400C waters of the vents, but arise within a temperature gradient between the hydrothermal vent water, and the surrounding cold water.
There are several
abiogenesis
theories still on the burners of science labs around the world – even a
mica sandwich
.
But there is no more Primordial Soup today.