A team of Georgia Institute of Technology scientists are reporting that molecules they term "unselfish" may have midwifed the birth of life's original (sometimes called "selfish") genes. The Georgia Tech scientists are investigating the possibility that intercalator molecules such as ethidium could have assisted life's non-living building blocks in forming complex organic chains and might have entered into the selection of DNA double helix base pairs.

Intercalator molecules are known to bind between neighboring shorter pieces of DNA and RNA and prevent the ends from reacting with one another, allowing the formation of long chains.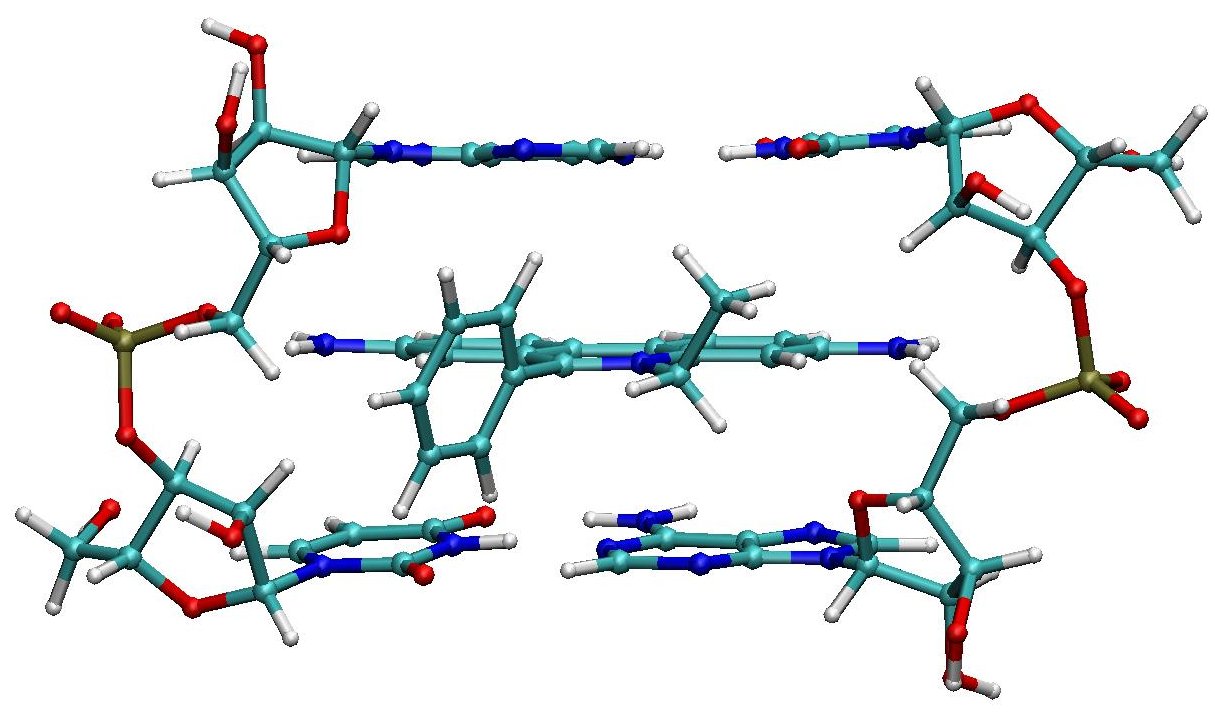 Image: Molecular structure of ethidium intercalated between two pairs of adenine-uracil base pairs by Karol Langner, via Wikimedia Commons 

The team's research, supported by NASA and the National Science Foundation, was posted March 8, 2010, in the online early edition of the Proceedings of the National Academy of Sciences.

In a press release, lead author Nicholas V. Hud, professor in the School of Chemistry and Biochemistry at Georgia Tech's said:

"Our hypothesis is that before there were protein enzymes to make DNA and RNA, there were small molecules present on the pre-biotic Earth that helped make these polymers by promoting molecular self-assembly. We've found that the molecule ethidium can assist short oligonucleotides in forming long polymers and can also select the structure of the base pairs that hold together two strands of DNA."

"If you have the intercalator present, you can get polymers. With no intercalator, it doesn't work, it's that simple."

"We're not saying that ethidium was the original midwife, but we've shown that the principle of a small molecule working as a midwife is sound. In our lab, we're now searching for the identity of a molecule that could have helped make the first genetic polymers, a sort of 'unselfish' molecule that was not part of the first genetic polymers, but was critical to their formation."