Scientists at the University of Illinois have fabricated the world's smallest chain-mail fabric. Combined with existing processing techniques, the flexible, metallic fabric holds promise for fully engineered smart textiles.
"The miniature fabric is an important step toward creating textiles where structure and electronics can be designed, integrated and controlled from the ground up," said Chang Liu, a Willett Scholar and a professor of electrical and computer engineering at Illinois.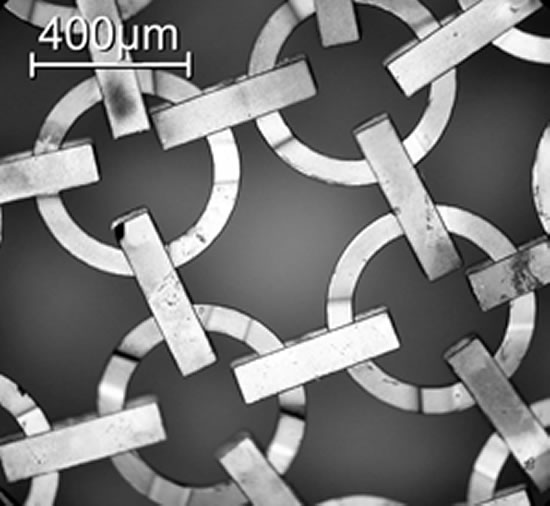 Micrograph of released metallic fabric that is expanded to the maximum area. Photo courtesy Chang Liu
The fabric was made by Liu and graduate student Jonathan Engel. They describe the fabric and the fabrication process in the March issue of the Journal of Micromechanics and Microengineering.
The fabric is similar in construction to the chain-mail armor worn by medieval knights. It consists of a network of small rings about 500 microns in diameter and even smaller links about 400 microns long (a micron is 1 millionth of a meter). The rings and links are built upon a planar substrate and then released to create a flexible sheet that can bend along two axes and drape over curved surfaces.
Because the rings and links can slide and rotate against each other, the fabric possesses unique mechanical and electrical properties. For example, the electrical resistance changes when the fabric is stretched. These properties could prove useful for the development of smart fabric and wearable electronic devices for pervasive computing.
"The first layer of fabric could consist of silicon islands with embedded circuits or sensors," said Liu, who also is affiliated with the university's Beckman Institute for Advanced Science and Technology, the Institute for Genomic Biology, and the Micro and Nanotechnology Laboratory.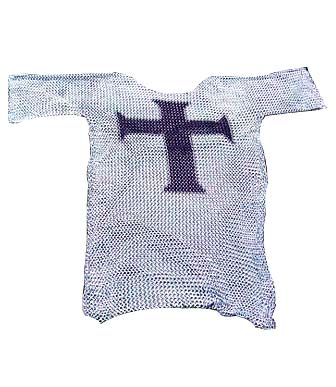 Say goodbye to your old clunky chainmail
"The resulting fabric could generate electricity, detect movement or damage, or serve some other active role," Liu said.
Although demonstrated at the wafer scale, the researchers' chain-mail fabric could be made in large swatches by existing roll-to-roll processes.
Written from a news release by University of Illinois at Urbana-Champaign.