There are a lot of conflicting reports about the common elbow surgery made famous by Major League Baseball pitcher, Tommy John - Ulna Collateral Ligament (UCL) reconstruction surgery. Some reports show it helps pitchers win more games, some show it does not.
The elbow is three joints formed from three bones. The Ulna Collateral Ligament (UCL) is located on the inside of the elbow and composed of the anterior, posterior, and transverse bands. The UCL attaches to one side to the humerus and on the other to the ulna. Repetitive stresses cause the ligament to stretch and become too long and when that happens, it no longer holds the bones tightly enough during throwing activities.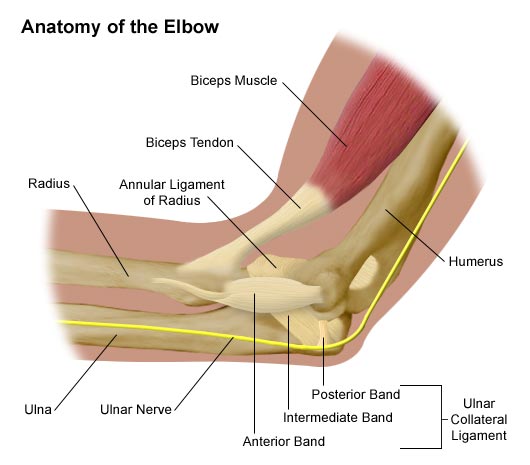 UCL in the elbow. Credit: University of Utah.
A paper at the American Orthopaedic Society for Sports Medicine's (AOSSM) Annual Meeting today used the largest cohort of MLB pitchers to-date that have undergone UCL reconstruction.
"Our results suggest that UCL reconstructive surgery does a tremendous job in allowing players to return to their same level of sport but it also describes a decline in pitching performance after undergoing reconstruction. We also found that there is a statistically significant decline in pitching performance the year before reconstructive surgery and this decline was found to be a risk factor for requiring surgery. Our study further noted an increased risk of players requiring surgery if they enter the Major Leagues at a younger age," said lead author, Robert A. Keller, MD of Henry Ford Hospital in Detroit, Michigan.
Keller and his team analyzed the statistics for 168 major league pitchers, who threw at least one season at the Major League level and subsequently underwent UCL reconstruction. Statistical data, including earned run average (ERA), walks and hits per innings pitched (WHIP), win percentage, innings pitched, and salary were compared for the three years before and three years after undergoing UCL reconstruction.
The data was compared to 178 age matched controlled MLB pitchers. Risk factors for reconstruction were analyzed using a multivariable generalized estimating equation (GEE) model
Of the pitchers undergoing UCL reconstruction surgery 87 percent returned to the Major League level. Of the pitchers that returned, they had a statistically significant decline in their ERA (P=0.001), WHIP (P=0.011), Innings Pitched (0.026), compared to pre-reconstruction performance. Reconstructed pitchers also had a statistically significant decline in their pitching performance in the season before their surgery (ERA p=0.014, WHIP p=0.036, Innings pitched p<0.001, Win Percentage p=0.004).
Approximately 60 percent of pitchers requiring UCL reconstruction had surgery with in the first five years of being in the Major Leagues. Compared to age matched controls, the reconstructed pitchers had statistically more major league experience at the same age suggesting that arm stress from earlier Major League experience contributed to injury. Players who entered the MLB early also appeared to have a greater risk for surgery.
"Having athletic trainers and team physicians, closely look at when players pitching performance stats start to decrease may allow for steps to be taken with a pitcher before a surgery is needed. Our study also further highlights the need for kids not to overuse their arms early in their pitching careers," said Keller.