After 12 weeks of strength training, people over the age of 90 improved not only their strength, power and muscle mass, but also showed an improvement in their balance, their walking speed and developed a greater capacity to get out of their chairs, according to new study.
With aging, the functional capacity of the neuromuscular, cardiovascular and respiratory system progressively starts to diminish, and this leads to an increased risk of frailty. Physical inactivity is one of the fundamental factors that contributes to the loss of muscular mass and functional capacity, a key aspect in frailty.
24 people between 91 and 96 participated in the research, eleven of them in the experimental group and 13 in the control group. Two days a week over a 12-week period they did multicomponent training: a program of various exercises designed specifically for them and which combined strength training and balance improving exercises.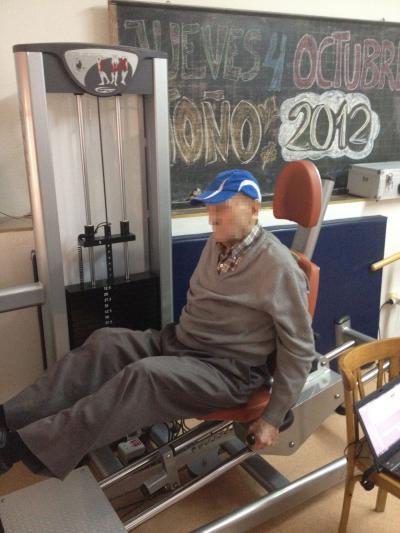 As study leader Mikel Izquierdo-Redín, Professor of Physiotherapy at the NUP/UPNA-Public University of Navarre
explains, "the training raised their functional capacity, lowered the risk of falls, and improved muscle power. In addition to the significant increases in the physical capacity of frail elderly people, the study has shown that power training can be perfectly applied to the elderly with frailty."
"From a practical point of view, the results of the study point to the importance of implementing exercise programs in patients of this type, exercises to develop muscle power, balance and walking." In his view, "it would be beneficial to apply exercises of this type among vulnerable elderly people to prevent the impact of aging, improve their wellbeing and help them to adapt to the society in which they live."
Citation: Eduardo L. Cadore, Alvaro Casas-Herrero, Fabricio Zambom-Ferraresi, Fernando Idoate, Nora Millor, Marisol Gómez, Leocadio Rodriguez-Mañas, Mikel Izquierdo, 'Multicomponent exercises including muscle power training enhance muscle mass, power output, and functional outcomes in institutionalized frail nonagenarians', Age September 2013 10.1007/s11357-013-9586-z