University of Cincinnati researchers are reporting on the educational and health benefits of specially created outdoor play environments for children. Victoria Carr, a UC associate professor of education and director of the UC Arlitt Child and Family Research and Education Center, and Eleanor Luken, a former UC research associate for the Arlitt Center and current doctoral student at City University of New York, take a look at this growing trend around the world in an article published this month in the International Journal of Play.
Typically called playscapes, these settings are defined as an intentionally designed, dynamic, vegetation-rich play environment that nurtures young children's affinity for nature. Unlike traditional urban playgrounds, they can promote more learning, physical development and social skills.
The researchers say nationally, children are spending less time on playgrounds as well as less time in just play. "The advantages of building playscapes over traditional playgrounds are considerable," write the authors. "Children have opportunities to learn about scientific inquiry, mathematics and other embedded concepts as required by curricular methods."
"Not only does it engage children in science, technology, engineering and math (STEM) education at an early age, but it also fosters future stewards for a sustainable environment while providing a developmentally appropriate play and learning venue for the 21st century," the authors state in the article.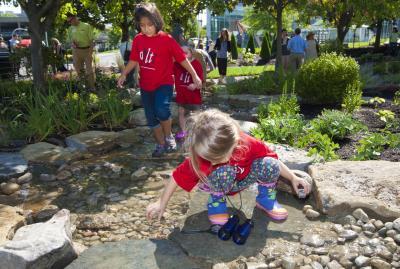 The article highlights other countries – Sweden, Australia, Scandinavia, Germany and the United Kingdom among the examples – which are making strides in reconnecting children with nature through play venues in natural settings, as well as international research indicating that these environments not only sharpen attention skills but also reduce depression and symptoms of attention deficit disorders.
"They provide a sense of play that also addresses parental concerns about safety, creates pleasant play environments, supports child development and nurtures nature exploration, setting the stage for environmental stewardship."
"In essence, playscapes can sanction play and recess as an academic learning venue while serving as an early educational model for the next wave of environmentalism," write the authors. "It appeals to a child's sense of being in a special place, promotes curiosity and demonstrates sustainable practices."