A new corticosteroid hormone in the sea lamprey, an eel-like fish and one of the earliest vertebrates dating back 500 million years, may shed light on the evolution of steroid hormones.
Principal investigator and lead author David Close of the University of British Columbia's Department of Zoology andcolleagues at Michigan State University identified a corticosteroid hormone called 11-deoxycortisol in the sea lamprey that plays dual roles in balancing ions and regulating stresses, similar to aldosterone and cortisol in humans. 
Native to the Pacific Coast of North America and Asia, Pacific lampreys are an important ceremonial and subsistence food for Aboriginal peoples in the Columbia River basin. They are born in freshwater, swim out to the ocean as adults and return to freshwater to reproduce in similar habitats to Pacific salmon and trout. Adult lampreys can grow to approximately 75 cm long and use their sucker-like mouth to attach to other fish while in the ocean.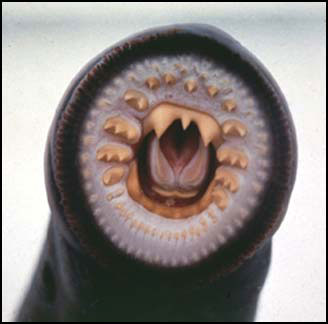 Mouth of the Pacific lamprey. Credit: Wydoski and Whitney, 1979
"The origin of the corticosteroid signaling pathway has remained controversial over the past several decades because the identity of the ancestral corticosteroid has been elusive," says Close.  "This discovery will help us better assess environmental and other stress factors on lamprey species – and provide insight into how stress-regulating hormones evolved from the earliest of vertebrates." 
The findings will published online in the Proceedings of National Academy of Sciences Early Edition.