After a decade of development, the Air Force has launched the the X-37B Orbital Test Vehicle from Cape Canaveral Air Force Station, Fla., on an Atlas V expendable launch vehicle, and the Internet is abuzz with speculation about what it means because it is the first craft to have autonomous space re-entry.
 Star Wars 2010
?   
The X-37B Orbital Test Vehicle, or OTV, is a non-operational system that will demonstrate a reliable, reusable, unmanned space test platform for the U.S. Air Force. The objectives of the OTV program include space experimentation, risk reduction and a concept of operations development for reusable space vehicle technologies.
Features
The X-37B Orbital Test Vehicle is the newest and most advanced re-entry spacecraft. Based on NASA's X-37 design, the unmanned OTV is designed for vertical launch to low Earth orbit altitudes where it can perform long duration space technology experimentation and testing. Upon command from the ground, the OTV autonomously re-enters the atmosphere, descends and lands horizontally on a runway. The X-37B is the first vehicle since NASA's Shuttle Orbiter with the ability to return experiments to Earth for further inspection and analysis. 
Technologies to be tested include advanced guidance, navigation and control, thermal protection systems, avionics, high temperature structures and seals, conformal reusable insulation, and lightweight electromechanical flight systems. In addition, the X-37B Orbital Test Vehicle will demonstrate autonomous orbital flight, reentry and landing.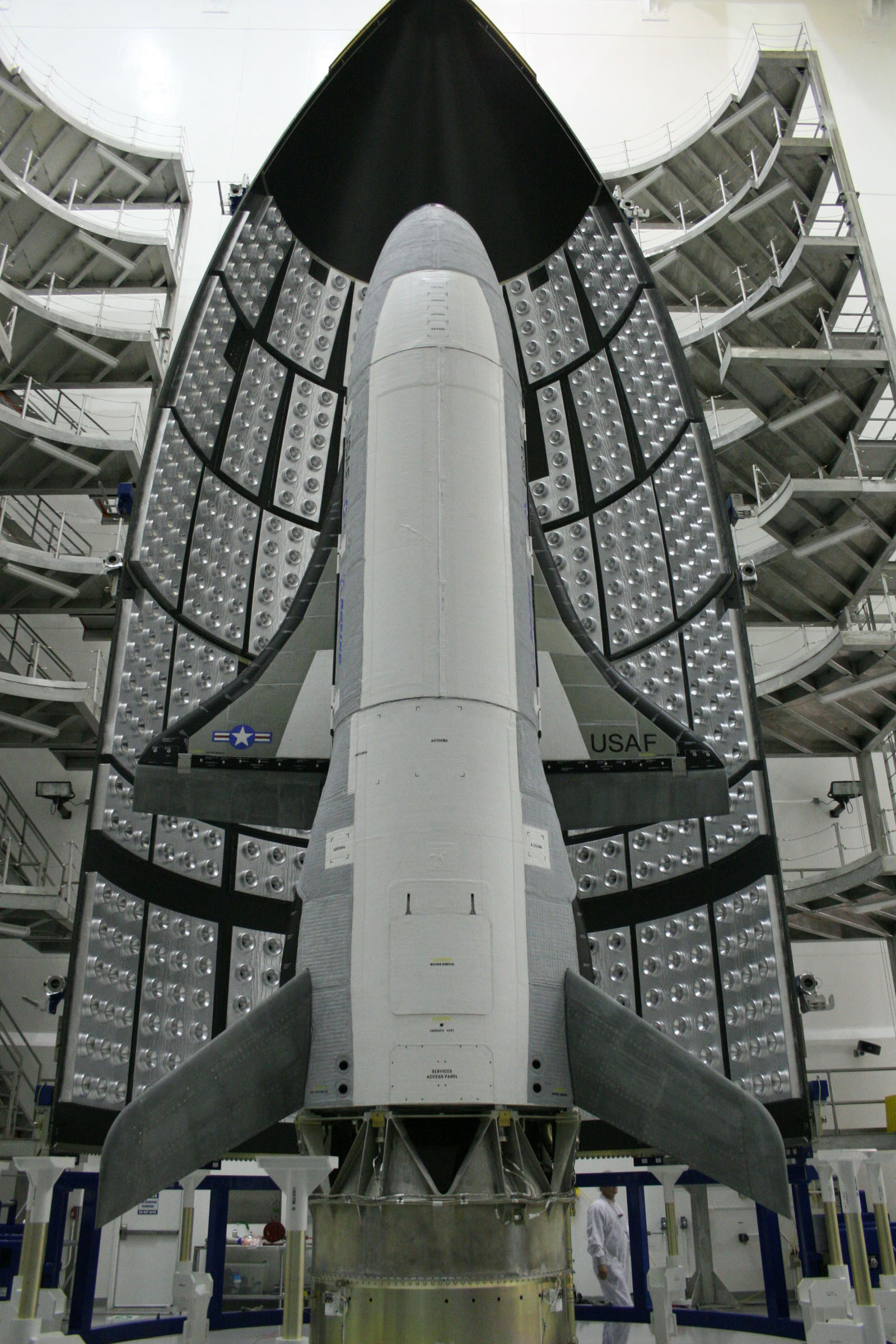 Background
NASA's original X-37 program began in 1999 and ran until September 2004 when NASA transferred the program to DARPA. NASA envisioned building two vehicles, an Approach and Landing Test Vehicle, or ALTV, and an Orbital Vehicle. The ALTV validated flight dynamics and extended the flight envelope beyond the low speed/low altitude tests conducted by NASA from 1998 through 2001 on the X-40A, a sub-scale version of the X-37 developed by Air Force Research Labs. DARPA completed the ALTV portion of the X-37 program in September 2006 by successfully executing a series of captive carry and free flight tests. NASA's X-37 Orbital Vehicle was never built: but its design was the starting point for the Air Force's X-37B Orbital Test Vehicle program.
Re-entry and recovery activities will be conducted at Vandenberg Air Force Base, Calif. or Edwards AFB, Calif.
General Characteristics:
Primary Mission: Testing reusable space vehicle
Prime Contractor: Boeing
Height: 9 feet, 6 inches (2.9 meters)
Length: 29 feet, 3 inches (8.9 meters)
Wingspan: 14 feet, 11 inches (4.5 meters)
Launch Weight: 11,000 pounds (4,990 kilograms)
Power: Gallium Arsenide Solar Cells with lithium-Ion batteries
Launch Vehicle: Lockheed-Martin Atlas V (501)