Bog mummies are 2000-year-old mummies from the Iron Age that were preserved with amazing detail by the peat bogs of Europe.
Physical anthropologists draw conclusions from the eerily preserved hair, leathery skin and other features in the mummies that emerge from the bogs. In the Iron Age, from approximately 500BC to 500AD, people were often cremated, leading experts to believe that mummies preserved by the bogs were usually those who met their demise through particularly violent means or were used as sacrifices.
A violent demise was thought to be the case for a mummy known as Windeby Girl, studied by Dr. Heather Gill-Robinson, assistant professor of anthropology at North Dakota State University, Fargo. Discovered in northern Germany in 1952, experts thought she may have been an adulteress whose head was shaved, after which she was blindfolded and drowned in the bog.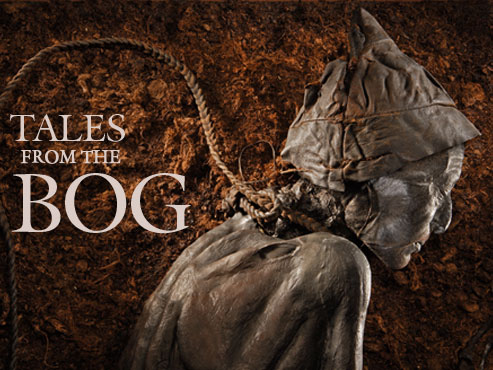 Tales From The Bog. Photograph by Robert Clark
As noted in a new National Geographic article Tales from the Bog, "the theory unraveled after Heather Gill-Robinson of North Dakota State University took a close look at the body … Windeby Girl was likely a young man" and may have lost his hair when archaeologists' trowels dug up the body. The article further notes that physical examination of the mummy showed that growth interruptions in the bones of the specimen indicated a sick young man who may have died from natural causes.
The water and other substances in peat bogs create a natural preservative for the bodies found in them, though Dr. Gill-Robinson says researchers are still trying to determine why.
The lack of oxygen, antimicrobial action and the sphagnum found in bogs seem to conspire to preserve the bodies tossed into them thousands of years ago. Bogs were once seen as homes for gods and outcast spirits.
But increasingly sophisticated computer programs and use of medical technology such as CT scans, radiocarbon dating and 3-D imaging have resulted in additional and potentially more accurate answers to the mysteries of the peat bog mummies. In her research, which includes the study of other mummies in addition to "Windeby Girl," Gill-Robinson can also determine other details such as what they ate and their possible occupations.
The research being conducted at NDSU also gives students an opportunity to learn more about physical anthropology, according to Gill-Robinson. Two recent NDSU graduates, for example, analyzed CT scans of mummy specimens for a year and four more students are involved in image analysis projects this year. The mummies studied in Gill-Robinson's research were found between 1871 and 1960. She has studied them for the past four years.
"Detailed analysis of the bog bodies provides us a window into cultures, heritage and the way people lived thousands of years ago," says Gill-Robinson. "To be included in a prestigious publication such as National Geographic helps us to bring this research to a wide general audience. We might inspire a future generation of anthropologists or give a better glimpse into the Iron Age."
Gill-Robinson notes the continuing advance of technology allows physical anthropologists to discover new details about the subjects they study. "When we think we may have discovered something new about a mummy, we can re-visit it several years later and with new technology, refine our research results. In these cases, we need to present a revised interpretation to the public. Communities where discoveries are made have a high level of interest in what is found. Respectfully addressing folklore surrounding such discoveries in communities also plays a role."
Gill-Robinson's areas of research interest have focused on a collection of seven bodies (six mummies and one skeleton) from peat bogs in northern Germany.
After a receiving a three-month research grant from the German Academic Exchange Service, Bonn, Germany, Gill-Robinson spent the summer exploring aspects of peat bog mummies in conjunction with Stiftung Schleswig-Holsteinische Landesmuseen Schloss Gottorf, a museum in Schleswig, Germany. Her research was previously cited in the article, "Rehabilitation of a Moorland Corpse," in Abenteuer Archaeologie, a German popular press archaeology magazine.
Source: North Dakota State