Can your school-age child break this code?
VS LBH NER NTRQ ORGJRRA RYRIRA NAQ FVKGRRA NAQ PNA ERNQ GUVF GURA JUL ABG RAGRE GUR NYNA GHEVAT PELCGBTENCUL PBZCRGVGVBA
If so,
The School of Mathematics at The University of Manchester, where Turing helped develop the earliest stored-program computers following his pioneering Enigma Code-breaking work at Bletchley Park during WW2, wants to help develop those skills and is organizing a competition to celebrate Turing's centenary.
The Alan Turing Centenary Cryptography Competition (sponsored by travel website Skyscanner, linked to for spending some money on smart kids - the cofounders are Manchester alumni) is open to schoolchildren in England ages grades 7-11. More than 70 teams from schools across the Northwest have signed up. To crack the competition, which runs until April 16th, entrants must follow the story of Mike and Ellie; two children who get caught up in the search for the missing 'Turing Treasure' and do so by solving a series of cryptographic challenges as they go.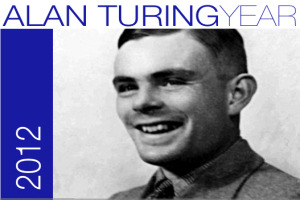 Dr. Charles Walkden, one of the organizers of the competition, said, "You don't need to be an expert mathematician or a computer programming whizz to take part, you just need to be good at problem solving and thinking logically.
It is a great opportunity for children to solve mathematical puzzles in a fun way."
There will be a prize-giving ceremony on Tuesday June 12th,2012 at The University of Manchester, prior to a public lecture on Alan Turing by Dr. Andrew Hodges. Teams should be a maximum of four students and can sign up at
http://www.maths.manchester.ac.uk/cryptography_competition_2012
.
The prizes are:

1st prize: £150 in Amazon vouchers for each team member
2nd prize: £100 in Amazon vouchers for each team member
3rd prize: £75 in Amazon vouchers for each team member