An academic from Swansea University's History Department has received a research grant of £101,000 from the Wellcome Trust to investigate the history of medicine in Joseph Stalin's concentration camps of the mid-twentieth century.
Dr Dan Healey's project, entitled Medicine in the Gulag Archipelago, will be done in collaboration with Dr Kirill Rossianov of the Moscow Institute of the History of Natural Sciences and Technology of the Russian Academy of Sciences and focus on the history of medicine in the Soviet Union's Gulag network of labor camps and will show how doctors and medicine were integral to these far-flung places of confinement during the 1930s to 1950s.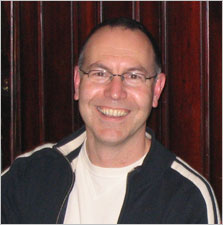 Dr Dan Healey, Swansea University
The Gulag was the network of concentration camps, which were located in the most remote regions of the Soviet Union during the rule of Joseph Stalin, from 1929-1953. About 20 million people passed through them and, of those, countless hundreds of thousands or even millions perished.
The Gulag became known as an "archipelago", because the camps were spread across the empty expanse of Russia like a string of islands. The camps helped to build the Soviet system, but also terrorized the people and destroyed families.
The project will draw on a wide range of sources including official records of the Gulag's medical services and documents from the Soviet civilian scientific and medical establishment.
It will also focus on the huge array of personal accounts by Gulag survivors, including many memoirs by doctors and nurses, to tell the story of how inmates received – and failed to receive – medical care in the camps.
Through the project, Dr Healey plans to discover what was distinctive about Gulag medicine as a kind of medical care practiced under extreme conditions. The project will also look critically at the relationship between Soviet civilian and prison medicine, asking how Gulag experience affected Soviet medicine more generally.
Speaking about the research award, Dr Healey said: "This funding gives me the opportunity to explore the archives of the Gulag, Stalin's labour-camp system, a vast network of mines, lumber complexes, and factories, all staffed by prisoners, that spanned the empty expanses of the Soviet Union's far north and eastern Siberia.
"With my colleague Dr Kirill Rossianov, I will be tracing the history of the Gulag's medical services.
"We know that forced labour killed many thousands in the Gulag, but paradoxically there was a network of labour-camp hospitals and infirmaries, mostly staffed by prisoner-doctors and nurses, keeping at least some prisoners alive.
"Many Gulag survivors mention these havens of mercy, but no one has yet told their story. Through survivor memoirs and official archives, we will reconstruct the world of the Gulag infirmary, and ask how places of healing could co-exist with the mass mortality of Stalin's prison camps."
The three-year project will begin this October and Dr Healey will carry out the work .