The first genome sequencing project of a mammal that lays eggs is complete and, like the animal itself, the DNA of the platypus is something of a patchwork.
The platypus, found in eastern Australia, including Tasmania, is one of the five species of mammals that lay eggs instead of giving birth to live young. The four species of echidna are the other mamimals that share this distinction.
The curious discovery of the duck-billed, egg-laying, otter-footed, beaver-tailed, venomous platypus in 1798, comfortable on land and in water, convinced British scientists that it must be a hoax. Sketches of its appearance were thought to be impossible.
But new research proves that the oddness of the platypus' looks isn't just skin-deep. Platypus DNA is an equally cobbled-together array of avian, reptilian and mammalian lineages that may hold clues for human disease prevention.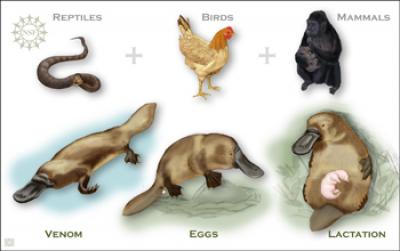 The patchwork of platypus DNA. The male platypus has venomous spurs on his hind feet with poison very similar to that of reptiles. The female lays eggs like birds and lactates to feed their young just like mammals. Credit: Zina Deretsky, National Science Foundation
Mark Batzer and Andrew C. Pereboom of Louisiana State University, along with an international group of scientists led by Wes Warren at Washington University in St. Louis, Missouri, recently completed the first draft sequence and analysis of the platypus genome.
"Their genomic organization was strange and a little unexpected," says Batzer. "It appeared much more bird- and reptile-like than mammalian, even though it is indeed classified as a mammal."
Having the genome in hand is a huge step for scientists seeking new details about evolution and human disease. The fact that the platypus is an ancient animal that is relatively primitive and unchanged may be a scientific boon for researchers.
At least that's the hope of researchers at the National Science Foundation (NSF), who partially funded the study. "Looking at the platypus genome may yield clues about the functions of certain components of DNA and contribute to our understanding of evolution," says Mark Weiss, division director for NSF's behavioral and cognitive sciences.
The platypus occupies the first branch of the mammalian tree of life after the split from "saurepsoids" about 315 million years ago. It maintains some long dated features and, as a result, should provide information on how mammals evolved.
"DNA contains small 'mobile elements' that make copies of themselves and then are inserted elsewhere into the genome. These elements can influence important evolutionary processes, and we want to know more about them," says Weiss.
"These mobile elements were once thought to be so small that they had no function," says Batzer. "But, in reality, they cause insertions and deletions which can lead to genetic diseases in humans and they are also involved in the creation of new genes and gene families."
Grants from the National Institutes of Health focused on aspects of genetic disease.
"This is a huge genetic step. We're learning a lot about mammalian gene regulation and immune systems, which has huge implications for disease susceptibility research," says Batzer. "We hope to, in time, identify the underlying causes and methods of disease prevention in humans."
Better insight into monotreme biology, or the biology of mammals that lay eggs, provides a "baseline" for understanding immunity, reproduction and chemoreception, which can further the study of the evolution of human biology.
"In other words, it provides the 'big picture' as compared to the genomes of other animals more similar to humans that have a more focused window," says Batzer.
In addition, the platypus was chosen as the subject of this study in large part due to its strange appearance, but other selection factors include the species' endangered status in its only indigenous habitat, Australia.
One interesting finding for the researchers is that several of the populations seem to have been geographically separated for a long time. Based on an analysis using mobile elements, the population on the island of Tasmania seemed genetically far distanced compared to other platypus populations from the mainland of Australia.
This was one of the largest platypus population genetics studies ever conducted.
Platypuses are extremely shy by nature and only a few places like Healesville Sanctuary in Victoria, Australia, have had success breeding them in captivity. Researchers hope that some of the clues unearthed in the platypus genome might lead to a better understanding of the history of the species and new conservation efforts.