All 3,000 Virgin Trains staff (that get seen by customers) will be sporting a new look today following the delivery of new uniforms.
The difference? All of the Wensum-supplied garments are 'eco-friendly.'
What does that mean? Leave it to Richard Branson to make clothes that can be thrown in a washing machine an ecological PR move. Both the garments and the package are also recycleable, they say, and the manufacturer treats its workforce within full Human Rights conditions, though that would seem to be a bonus outside the environment.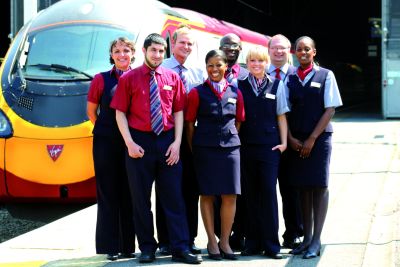 Eco friendly clothes are machine washable! Who knew? Next up, Branson will unveil an eco-friendly clothes dryer - your grandmother called it a clothes line.
Waistcoats, cufflinks, tie clips and hair bands are all supplied as optional items and dark blue jackets and silver grey shirts and blouses will be worn by train managers, station team leaders, and catering managers. The rest will still wear Virgin red.
Why switch? The old uniforms needed updating, they say (updating for the sake of updating being of questionable ecological benefit, though - can a design from 6 years ago really be that 'old?) and the existing contract with Wensum was up for renewal. The new look will now last through until at least 2012 when the West Coast franchise will be up for renewal.
The staff have been asked to take their old uniforms back to depots where they will be sorted and sent back to the supplier for recycling.
Virgin Rail Group is owned 51 percent by Virgin Group and 49 percent by Stagecoach.
Virgin Trains has been listed as the Best Train Operator in a survey by the Institute of Customer Service; came joint top of the long-distance train operators for passenger satisfaction in the National Passenger Survey and has been voted Best Rail Company by Travel Weekly magazine.