A mummy dating from 3700-3500 B.C. housed in the Egyptian Museum in Turin since 1901 has never undergone any conservation treatments - and that provided a unique opportunity for some science.
And the results were a surprise. It was assumed the Turin mummy had been naturally mummified by the desiccating action of the hot, dry desert sand but chemical analysis showed that the mummy had undergone an embalming process, with a plant oil, heated conifer resin, an aromatic plant extract and a plant gum/sugar mixed together and used to impregnate the funerary textiles in which the body was wrapped.
This 'recipe' contained antibacterial agents, used in similar proportions to those employed by the Egyptian embalmers when their skill was at its peak some 2,500 years later. This radiocarbon dating evidence means embalming was happening far earlier than prior evidence showed.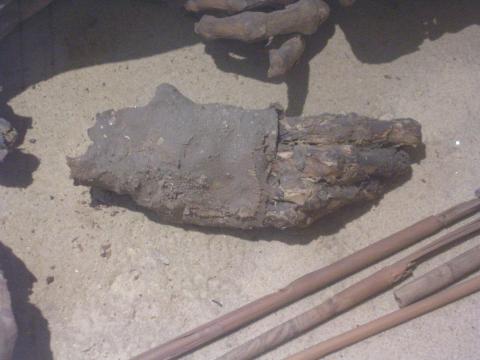 Credit: Dr Stephen Buckley, University of York
Archaeologist Dr. Stephen Buckley from the University of York
said in a statement
, "This preservative treatment contained antibacterial constituents in the same proportions as those used in later 'true' mummification. As such, our findings represent the literal embodiment of the forerunners of classic mummification, which would become one of the central and iconic pillars of ancient Egyptian culture."
Professor Tom Higham, Deputy Director Oxford Radiocarbon Accelerator Unit, said, "There are very few mummies of this 'natural' type available for analysis. Our radiocarbon dating shows it dates to the early Naqada phase of Egyptian prehistory, substantially earlier than the classic Pharaonic period, and this early age offers us an unparalleled glimpse into funerary treatment before the rise of the state.