Johnson & Johnson's Ad26.COV2.S COVID-19 vaccine raised neutralizing antibodies and robustly
protected rhesus macaques against SARS-CoV-2
, the virus that causes COVID-19.
The vaccine uses a common cold virus, called adenovirus serotype 26 (Ad26), to deliver the SARS-CoV-2 spike protein into host cells, where it stimulates the body to raise immune responses against the coronavirus. The team have developed a series of vaccine candidates designed to express different variants of the SARS-CoV-2 spike protein, which is the major target for neutralizing antibodies. In this study, they immunized 32 adult rhesus macaques with a single dose of one of seven different versions of the Ad26-based vaccine, and gave 20 animals sham vaccines as placebo controls.
All vaccinated animals developed neutralizing antibodies following immunization. Six weeks after the immunization, all animals were exposed to SARS-CoV-2. All 20 animals that received the sham vaccine became infected and showed high levels of virus in their lungs and nasal swabs. Of the six animals that received the optimal vaccine candidate, Ad26.COV2.S, none showed virus in their lungs, and only one animal showed low levels of virus in nasal swabs.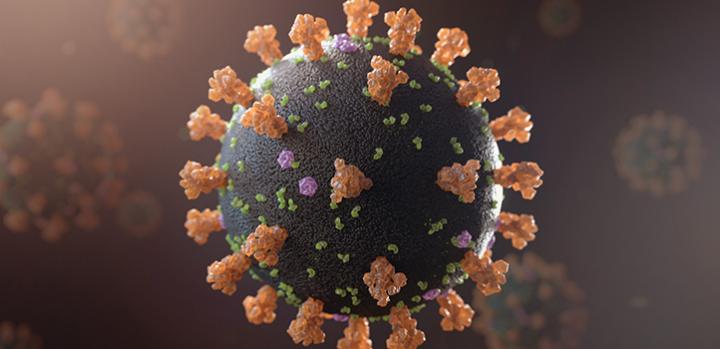 Graphical rendering of a SARS-CoV-2 virus showing the membrane protein (green) and envelope protein (purple) and the characteristic spike protein (orange). Image: KAUST; Xavier Pita
Moreover, neutralizing antibody responses correlated with protection, suggesting that this biomarker will be useful in the clinical development of COVID-19 vaccines for use in humans.
Investigators at Beth Israel Deaconess Medical Center and other institutions have initiated a first-in-human Phase 1/2 clinical trial of the Ad26.COV2.S vaccine in healthy volunteers. Pending clinical trial outcomes, the Ad26.COV2.S vaccine is on track to start a phase 3 efficacy trial in 30,000 participants in September.