Pilot results
from San Bernardino County, California, where crime is prevalent and distrust in government high, found that religion may be key to COVID-19 vaccine uptake. Focused education efforts and an on-site mobile clinic in Black church parking lots resulted in the vaccinations of 417 people, 84% of whom were Black.
Results also showed an increase in Black attendance of mass vaccination clinics to 3.6% of total patients, up from 3%, in the week following asking Black churches and clergy to help in COVID-19 vaccination education and distribution.
The initiative was developed in the wake of decades of the Black community's institutional distrust, in a state that already leads the country in vaccine denial. Though the Affordable Care Act created equal access to health care, it cannot mandate adequate access and that has left poor, crime-ridden areas like San Bernardino behind.
Public health officials centered their efforts around Loma Linda University Health's mass vaccination clinics, yet were surprised at the low percentage of Black individuals coming through government-run, white-academic-led clinics in the suburbs. Only when they asked did they learn that their arcane computer appointment system and telling people to go to a college in the suburbs was a barrier for many, even if the vaccine itself was going to be free.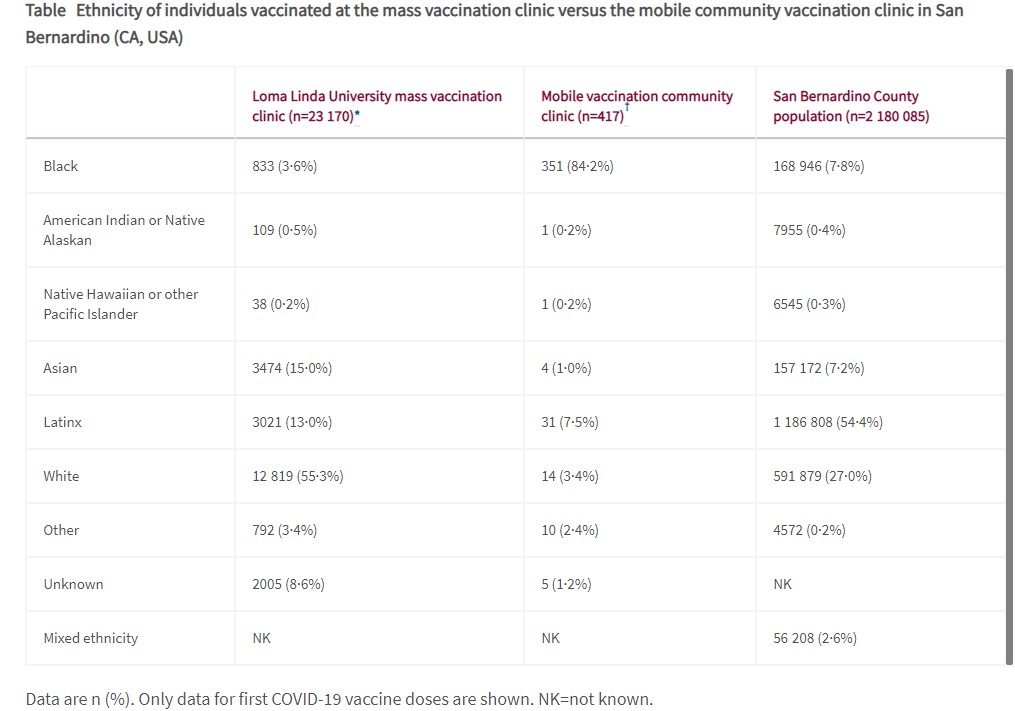 So they asked Inland Empire Concerned African American Churches (IECAAC) and Congregations Organized for Prophetic Engagement (COPE) to organize a COVID-19 faith summit; a comprehensive COVID-19 information session to gain the pastors' support of the available vaccines. After the summit, pastors advertised and coordinated educational webinars about the COVID-19 vaccinations, distributed registration paperwork designed to ensure internet access was not a barrier, and managed appointment lists for their community members before they attended the vaccination clinic.
Then they provided transportation. An African-American pharmacist ensured each vaccine was properly drawn from the vials before administration to individuals during the clinic visits.
These efforts resulted in establishing a trusting environment of familiarity among Black faith leaders and community members.