Ground sharks (Carcharhiniformes) are the most diverse shark group living today, with over 200 different species, and they are one of the major groups that survived the Cretaceous–Palaeogene mass extinction which is why we have the Tiger, Hammerhead, and Blacktip Reef sharks and lamniforms by the Great White and Mako sharks.
Before the mass extinction that killed-off non-bird dinosaurs and marked the end of the Cretaceous period and the Mesozoic era 66 million years ago, dinosaurs dominated terrestrial environments and Mackerel sharks (Lamniformes) were the dominant shark forms of the sea.
That hasn't been easy to learn. Cartilaginous skeletons of sharks do not easily fossilize and so our knowledge of these fishes is largely limited to the thousands of isolated teeth they shed throughout their lives. Scientists have nonetheless learned a lot about their biology, including information about diet, which can shed light on the mechanisms behind their extinction and survival. Using analytical techniques, a new study upcoming in
Current Biology
sought to explore the variation of tooth shape in carcharhiniforms and lamniforms and measured diversity by calculating the range of morphological variation - disparity.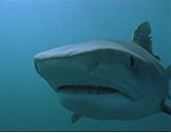 They found that though there were losses in species richness across the extinction, there was virtually no change in disparity across this major transition, which suggests that species richness and disparity may have been decoupled. Morphologically, there were differential responses to extinction between lamniform and carcharhiniform sharks, with evidence for a selective extinction of lamniforms and a subsequent proliferation of carcharhiniforms (the largest order of living sharks today) in the immediate aftermath of the extinction.
Which means food availabilitymay have played an important role, just like it did on land. The end-Cretaceous extinction saw to major losses in marine reptiles and cephalopods (e.g. squids) and the post-extinction world saw the rise of bony fishes. In addition, it is likely that the loss of apex predators (such as lamniforms and marine reptiles) benefited mid-trophic sharks, a role fulfilled by many carcharhiniforms.