Members of the United States military who are injuried abroad often return to the U.S. for treatment and must be transported by aeromedical evacuation between medical facilities.
Evacuations can lead to their own chronic and acute stress, on top of the injuries and potential psychological trauma.
While much is known about the benefits of animal-assisted interventions in a variety of health care settings, there is limited evidence of the biological and psychosocial effects of animal-assisted interventions in the military population, particularly in an aeromedical staging facility setting. To see if it would have benefits, Florida scholars teamed up with a local not-for-profit animal organization that trains therapy dogs to visit health care facilities, libraries, and other community based settings with a certified dog handler.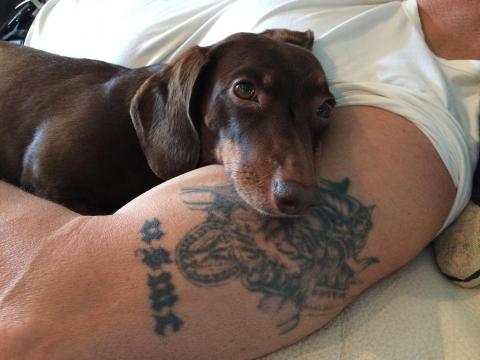 Therapy pup. Photo: Cheryl A. Krause-Parello, Ph.D., R.N., Florida Atlantic University
The study
sample included 120 military members ages 18 to 55 years old who were undergoing aeromedical evacuation. The majority of the male and female participants were in the Army (56.2 percent) followed by the Air Force (30.6 percent), Navy (7.4 percent), and Marine Corps (5 percent). The researchers examined the stress biomarkers cortisol, which affect the cardiovascular system and result in higher blood pressure, alpha-amylase, an enzyme, and immunoglobulin A, a blood protein that impacts the immune system, which were collected at regular intervals.
Results showed that an animal-assisted intervention in aeromedical staging facilities is both feasible and effective at reducing stress. Cortisol levels decreased significantly in the study participants following a 20-minute animal-assisted intervention. Patients with higher post-traumatic stress had a greater reduction in stress associated with immunoglobulin A, compared to those in the control group. Patients who participated in animal-assisted intervention experienced greater decreases in stress biomarkers than those who participated in the control group, regardless of post-traumatic stress symptom severity.
Good luck getting any of that with a cat.