Jon Lederman
Jon Lederman

About Jon I am inspired both by the elegance of theoretical physics as well as the creative application of applied science and technology in solving interesting problems. Theoretical science pervades many aspects of modern life, not only in a technological sense, but also in the edifying economic, political and social structures. Most of these ideas are unseen. I am interested in the application of beautiful theoretical models in everyday life - the importance of special and general relativity in the GPS, quantum mechanical phenomena such as tunneling in solid state devices, Shannon's theorem and information theory in telecommunications, variational calculus in geodesic calculations in computation of routes in air travel - to name a few.
Search For Articles By Jon
Blogroll Jon hasn't added any blog recommendations yet.
Recommended Books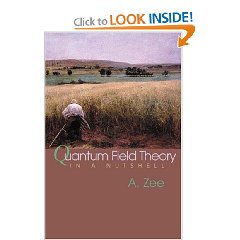 Quantum Field Theory In A Nuts...
by Zee
Affiliates Jon hasn't added any affiliates.
Jon's Friendlist













Click here to see Jon's entire friendlist