There is nothing like computer-assisted post-mortem analysis of your chess games to get you back to reality about the potential of your brain: the computer sees so much more than you do, and so much quicker, that you can't help throwing your hands up sometimes.
It is the case of the game I played yesterday during a team chess match in Cavarzere. My team won the match 3-1, but I only drew my own game. Upon getting back home and checking an opening book, I was satisfied to see that I had found all the right moves in a opening variation unknown to me. But then I looked a bit further using a chess program, and was astounded by the tactical variation it immediately spotted (well, after six seconds to be precise). The position arises after the first few moves of a 4-pawns attack in the Alechin defence:
T.Dorigo - M.Boscolo

Cavarzere, March 18th 2012
1.e4, Nf6; 2.e5, Nd5; 3.d4, d6; 4.c4, Nb6; 5.f4, dxe5; 6.fxe5, c5; 7.d5, e6; 8.Nc3, exd5; 9.cxd5, c4; 10. Nf3, Bb4; 11.Bg5, Bxc3+; 12.bxc3, Qxd5; 13.Qxd5, Nxd5; 14.0-0-0, Ne7; 15.Bxc4, Nbc6; 16.Rf1, h6?;

The position after the 16th black move is shown below. If you are going to try and find the correct continuation, do not scroll down...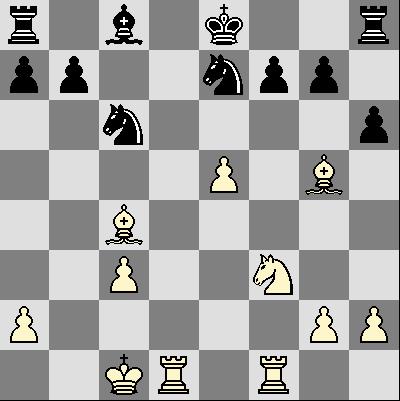 Here I did have the feeling I had to exploit the development advantage, but failed to see how I could put to work the two motives I had myself created on the board - namely, the weakness of f7 and the weakness of black's eight rank. So I just played 17.Be3, planning to re-route the bishop to c5. I obtained a slight edge but later, as the three other games of the team match ended 2.5/0.5 in our favor, I was led to agree to a draw without trying to squeeze a win. Instead, there was a move that would bring an immediate decisive advantage to white. Can you see it ?
White should now play
17.Nd4!!
, disregarding the attacked Bg5. Of course if 17.... hxg5 white wins easily by 18.Bxf7+, Kf8; 19.Be6+,Ke8; with the terrible 20.Nb5!, when black is powerless.
Less obvious, however, is the right path on
17...Nxe5
, which defends f7 and attacks the Bc4. But there again, the weakness of black's dark squares tells:
18.Nb5!
(threatening Nc7 and mate with Rd8). Here black has a choice: hxg5, Nxc4, Nbc6, Bg4; unfortunately, all lose. Let's see how:
A) 18...., hxg5 (Nxc4); 19.Nc7+, Kf8; 20.Rd8 mate explicitates white's main idea.
B) 18...., Nbc6; 19.Nd6+, Kf8; 20.Nxf7!, Nxc4; 21.Tde1!! (not an easy move to see), Be6; 22.Rxe6, Kg8; 23.Nxh8, Kxh8; 24.Bh4, and wins;
C) 18...., Bg4; 19.Nd6+, Kf8; 20.Nxf7!, Nxc4; 21.Nxh6+, Nf5; 22.Nxg4, g6; 23.Rd7, with a crushing attack.
Further, one could question what would be the continuation if instead of 17....Nxe5 black chose 17...., 0-0. In that case, too, white gets a winning position:
18.Bxe7, Nxe7; 19.Rxf7!, Rxf7; 20.Rf1, Bf5; 21.Nxf5, Kf8; 22.Bxf7, Kxf7; 23.Nd4+!, and white remains with a pawn up in a superior ending, where only technical problems remain to be solved.
Did you see 17.Nd4 before looking at my text above ? Of course even if you did you had a simpler task than the one I faced during the game, when nobody was telling me to look very carefully to the position after 16....h6. But I think it is still not an easy move to see, in particular in conjunction with the complex variations that may arise after 17....Nxe5. Once one saw the idea of Nd4-b5, however, one would sit on the position until everything was clear...