Is anything going to happen on September 24th? Well, the astronomers say, no. It is an ordinary day in space, nothing remarkable of note at all on that day by way of asteroid flybys.
Yes, it's true, as some news stories say, there is a distant flyby by a rather unremarkable asteroid. It is one of dozens that pass by Earth every month. It's not especially large as asteroids go. Indeed there's one more than double its size, passing closer, at a faster speed, on October 4th that nobody is interested in except perhaps a few astronomers.
Then, there's a lunar eclipse on September 28th. Any amateur astronomer has probably watched at least a few of those, and there is nothing remarkable about this one. We don't even know if it will be particularly red - that depends on atmospheric conditions on the day.
We've had several predictions of doom reported as news stories so far this year. First, we had an asteroid flyby on April 14th was reported rather sensationally in tabloid newspapers; that got some people worried. Then a bit later this year we got a bunch of news stories about a Dutchman who used Nostradamus to predict a large earthquake in California, again in April, which never happened of course. And, a couple of other minor scares.
There is nothing new about this, however, there have been predictions like this, often in clusters, ever since the first century BC. A couple of recent notable ones which many of us will remember were the one in 2012 (end of one of the "long years", or Baktuns in the Mayan calendar), and the year 2000 one (with the year 2000 computer bug scare).
So, I thought I'd first take a look at this September 24th story, in a bit more detail. Then, I'll talk a bit about "blood moons" - a term that is new to most astronomers, started to get used in the press around 2010. They generally call these just lunar eclipses. For some reason, not really explained except as "signs", these stories link lunar eclipses with the asteroid flyby. We've had many worried questions on Quora, about the "blood moons" so I'll go into that - it's an interesting topic in its own right, although, for astronomers anyway, it hasn't got much to do with asteroid impacts.
I also touch on mini black holes created in CERN, as someone has predicted one of those will swallow up the Earth around now also. Scientists have established that there is no risk of this happening, so I'll explain why they are so confident about this.
Then, I'll go a bit into the ideas of Armageddon, and how the "literal Armageddon" is just one of many ways of interpreting the book of Revelation - which was one of the last books added to the Bible and originally considered heretical by early Christians.
Then I will talk a bit about scientific ideas about how the world will end, universe also, and some thoughts about how one can deal with the idea that everything we know will some time be gone, though probably hundreds of millions, billions, or if you are talking about the whole observable universe there, trillions of years and more into the future.
(You can also get this article as a 31 page kindle ebook)
SEPTEMBER 24TH FLYBY OF EARTH
This is a rather small asteroid of no more than about 270 meters diameter. It's too small to have global effects on the Earth anyway (needs to be 1 - 10 km for that). It could indeed devastate a city or cause a tsunami. But it's due to miss us by over 21 times the distance to the Moon.
There are many near misses every month, for instance, right now there are 36 near misses predicted for October 2015.
The one on 4th October, 2015 FS332, 580 meters to 1.3 km in diameter, passes within 18.6 lunar distances. It is far larger than the one on the 24th of September, more than twice the size, and comes a little closer. It's faster also, relative to Earth (21.15 instead of 19.5 kilometers per second). Yet there are no prophecies or news stories about that one. And, if you look at the tables, just about any month you'll see a few meteorites similar in size and distance to 2012 TT5, try the NEO Close Approach Tables - updated every day.
For more about the September 24 "prediction" from an astronomical perspective, see The Truth About the "September 2015 Asteroid Impact" by Colin Johnston, Science Education Director at Amargh Planetarium, Ireland.
For another example, in January a larger asteroid about 500 meters across passed far closer than this to the Earth, at a distance of 1.2 million kilometers, or a little over three times the distance to the Moon. This makes it more than one and a half times larger than 2012 TT5, and it flew past Earth at a seventh of its distance of 2012 TT5. But this didn't lead to any Armageddon predictions at all as far as I know.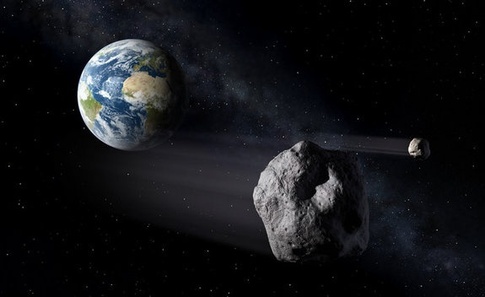 Mountain-Size Asteroid to Fly by Earth Monday: How NASA Will Watch - artist's impression.
Then, on May 15th, for some reason, a one kilometer asteroid passing at 26 times the distance to the Moon hit the headlines in the tabloid newspapers, with headlines like: "Asteroid a MILE wide to hurtle past Earth in 48 HOURS - as experts warn of MASS EXTINCTION" - A COLOSSAL asteroid hurtling through space is feared to be one of the biggest EVER to threaten a collision with Earth."
This is how NASA reported it:
"An asteroid, designated 1999 FN53, will safely pass more than 26 times the distance of Earth to the moon on May 14. To put it another way, at its closest point, the asteroid will get no closer than 6.3 million miles away (10 million kilometers). It will not get closer than that for well over 100 years. And even then, (119 years from now) it will be so far away it will not affect our planet in any way, shape or form. 1999 FN53 is approximately 3,000 feet (1 kilometer) across."
Yes, that May 15th asteroid was quite large as asteroids go, but not colossal. It would be a bad day if an asteroid like that hit Earth, for sure, devastate an entire country, and have some global effects. But it didn't come particularly close, and is one of numerous asteroids that fly past Earth every month.
Asteroids can't suddenly swerve out of their orbits, so it makes no difference if it misses us by say 5 times the distance of the Moon or 20 times, or even passes closer to Earth than the Moon - it is still a miss. It does remind us of the need to track these asteroids. But it has no significance for that particular asteroid.
If it misses, it misses and that's all there is to it. Getting scared by these misses is a bit like walking along the pavement and panicking every time a car or bus on the road misses you by a couple of meters.
Do pedestrians get scared because a bus is about to miss them by a couple of meters?

A bus can go out of control, though it is exceedingly rare. Asteroids can't swerve into a new orbit and hit the Earth.

Like pedestrians on a busy street, Earth gets close flybys by thousands of different asteroids, but all of the ones found so far are in orbits that won't hit Earth in the next century, and most of them, probably, not for millions of years.
The picture, by the way, is of the first hydrogen fuel cell London bus, photo taken in 2011.
From these examples, from an astronomical point of view, it all seems rather random, whether people get worked up about an asteroid flyby or just ignore it and leave it to the astronomers.
At any rate, there's no need to be concerned about the 24th September meteorite.
As for asteroids more generally, well for the big ones like the ones in Armageddon movie - forget about it.
There's been nothing like that for over three billion years in the entire inner solar system. The reason seems to be that we get protected by Jupiter, which catches most of them, or flings them to the sun or out of the solar system, or breaks them up into smaller 1-10 km sized chunks.
Dinosaur era ending ones do occur, yes, but they are far less likely than you would think.
Want to guess how likely a Dinosaur era ending impact is in the next century?
If you don't know the answer, and are going by the movies, I can pretty much guarantee you'll over estimate.
What do you think?
40%?
10%?
1%?
1 chance in a thousand?
1 chance in ten thousand?
1 chance in a hundred thousand?
1 chance in a million?
Less than one chance in a million?
None of those - if so what is your guess?
And what do you think is a "best guess" for how long it is likely to be before we get hit by one?
Answer below, giving some space so you can pause and guess, scroll down to see the answer.
.....
............
............
............
............
............
............
............
............
............
Scroll some more - I'm putting in plenty of dots in case you have a big screen
(no way to do a "new page" in html)
............
............
............
............
............
............
............
............
............
(and once more)
............
............
............
............
............
............
............
............
............
The answer is, there is less than one chance in a million.
It was one chance in a million before they started the search. But now we know all the ten kilometer asteroids right out through the main asteroid belt. That leaves only 10% of them left to find (estimated). So (since there isn't any selection bias to make the ones due to hit us harder to find), that makes the chance more like one in ten million that there's an undiscovered asteroid due to hit us in the next century.
Also, there are plans in place to make sure that by the 2020s we will have plotted nearly all of the ones of that size, and smaller ones also down to one kilometer in diameter, right out to the outer solar system.
Asteroids of around ten kilometers in diameter hit Earth roughly every 100 million years, so a "best guess" would be that it's at least several million years before we are hit by one.
The best way we can deal with the asteroid threats is to step up detection of asteroids. And indeed, teams of astronomers, amateur and professional, are working on just this.
Sensitive wide field telescopes look for them every night in automatic searches. For instance, Pan-STARRS takes 1.4 gigapixel photos several times a minute, spanning three degrees of sky (six times the diameter of the Moon), looking for new faint asteroids.
Then, the B612 foundation plans a space telescope in orbit close to Venus to look outwards and search for the ones hard to see from Earth. This is the only known way to make a complete survey of the smaller 100 meter sized ones that orbit inside of Earth, which may hit us from the direction of the sun. Eventually, if we can get space based mirrors like that in place, we'll know nearly all of them from 30 meters upwards, probably within a decade or two.
We should know almost all the ones of one kilometer diameter or more, right out to the outer solar system, by the 2020s. For more on this, see Surveys, Astrometric Follow-up&Population Statistics
Then other teams are busy working out the trajectories from the observations. We already know nearly all the asteroid from 1 km upwards likely to be a threat - none of the ones discovered so far are.
And if we find one headed our way - then most likely we have many years, decades, or centuries of warning, and we have already devised many ways to deflect them. With plenty of warning, a gentle shove, to change its velocity by a millionth of a meter per second, may be all that is needed. That's for the case where you apply it a decade or two before the projected hit, and if it does a flyby of Earth in between (as is usually the case).
Or in the worst case, evacuate the region it is headed for or go into shelters. Or for the smaller ones, keep indoors and away from windows at the moment of impact and evacuate the place it's going to hit.

Bob Holmes - one of many amateur astronomers doing follow up observations to work out the orbits of near earth asteroids to find out if any of them are on a course to hit Earth Bob Holmes of the Astronomical Research Institute in Illinois, USA
We should spot a ten kilometer diameter asteroid probably a couple of decades before it hits us, in the remote one in a ten million chance they find one headed our way. Pan-STARRS is the only survey still finding them - it is sensitive enough to spot an asteroid 300 meters across out to the outer asteroid belt. It's finding one asteroid a month of one kilometer or larger.
So, that part of the search is well underway and should be pretty much complete by the 2020s.
So, astronomers are now focusing more on the smaller ones
There are many methods now known that could deflect asteroids, especially with such long lead times before the impact. Even sometimes just paint it white and that will do the trick. But first we need to detect them.
This is the launch of the asteroid day campaign last year, with Brian May talking about the effect of a 100 meter asteroid if it hit London.
It has never happened in recorded history. Much of Earth is ocean, desert, But asteroids this big hit Earth roughly every 50 years, and with our growing population, it's getting more likely that they could hit a big city. It's probably what we should focus most on now, given that the one kilometer and larger search is well underway and will be completed by the 2020s pretty much.
To find out more about how we detect asteroids, the searches for them, and some of the ways we could deflect asteroids see my Is It True That An Asteroid Will Strike Earth On [Insert Date Here]? - Truth Behind Asteroid Scare Stories
And in more detail, my kindle book: How Can You Tell If an Asteroid Is Headed Your Way?: The Truth Behind Asteroid Scare Stories (estimated, 97 printed pages equivalent)
BLOOD MOONS
The moon always goes red during lunar eclipse.
It's rather poetic actually. Our Moon goes red from the light of all the combined sunsets and dawns on the world at the time of the eclipse. At the time of eclipse, the Sun and Moon line up so that the red light shines on the Moon.
The ISS gets sixteen sunrises and sunsets every day for much of the year - if you like to watch them, a low Earth orbit is the place to be, every 45 minutes you'll see one or the other of them (though there are times of year when it is permanently in sunlight and you don't see them, around the summer solstice).
This is the light which turns an eclipsed moon red, as seen from the space station.
As seen from the Moon the Earth would look dark with a very fine red ring all the way around it because of all the light from the sunsets and sunrises.
We actually have a photograph of the Earth from the Moon taken by Surveyor 3. It's actually an animated gif here of several frames, in black and white