I've been busy with proposal work instead of Calliope. I have to fund this satellite somehow, and earning money writing corporate proposals is enjoyable work. Proposal writing is also a strange world. Whether for business, for government, or for grants alike, it's just not quite human.
In face to face conversation, a deal is pretty simple. "I need you to defeat Henry V." 'We can do it-- we just bested the Persian Army.' "Deal!" But not so lucky in proposal world.
Response to customer Request for Proposal "Conquer England" by Spartans&Co.
Spartan&Co (Spartan) is a best-of-breed fighting force and best-fit match for the Phase 1 task in Conquering England (CE). CE as a whole is a task consisting of defeating the resident King, Henry V (Phase 1), then allowing an occupation force to occupy England in a power maintenance stance (Phase 2). We are specifically bidding on Phase 1, with the idea that the customer will choose an approprating teaming partner to complete Phase 2.
Spartan provides a small number/high yield field unit solution based on our experiences learned in our successful defeat of the Persian Army. We are well positioned to face larger forces by levering our superior tactical capability using our Pair Bond Management (PBM) to maintain high morale in all the expected combat situations. We present a Risk Table (Table 1-1-1) explaining how our approach eliminates or mitigates the risks experienced by the customer in previous CE awards.
Spartan offers to ship our troops, defeat Henry V, and await the arrival of the Phase 2 contractor to provide a seamless transition to occupation status. By using our small, cost-effective conquest approach method (CAM), the customer will achieve their CE goals on a quick timescale with minimal risk to your existing infrastructure, enabling you to succeed in your future England-based development plans.

Table 1-1-1: Risks and Mitigation
Risk:
English weather often impedes progress.
Mitigated:
Spartan forces travel light and are acclimated to difficult terrain, ensuring no weather delays.
Risk:
English archers have good track record against conventional cavalry forces.
Mitigated:
Spartan PBM focuses on rapid non-mounted forces to circumvent standard engagement defenses, reducing losses in a systematic and measureable way.
Risk:
Hunchback traitors may know secret paths that provide ambush.
Mitigated:
Lessons learned by Spartan enriched our culture of respect and diversity, mitigating the risk of defection and ensuring hunchback-related secrets are preferentially available to our own forces with no additional cost to customer.
Risk:
Rain of arrows may blot out sun.
Mitigated:
We will fight in the shade.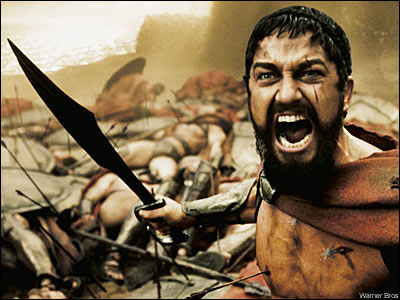 Alex
Launching
Project Calliope
, sponsored by Science 2.0, in 2011
News every Tuesday at
The Satellite Diaries
, every Friday at the
Daytime Astronomer