A few weeks ago, an event occurred that added another layer of drama to one of the biggest controversies in video gaming history - namely, who is the King of Kong.  Donkey Kong, that is.
If you've never seen 
"The King of Kong", a documentary about the Donkey Kong controversy, you won't be aware of the fuzzy favoritism of the 'official' record keepers for retro video game scores, Twin Galaxies, who happen to be close friends and business associates of the record holder since the early 1980s, Billy Mitchell.
Mitchell comes off rather poor in the documentary but not as poorly as
Twin Galaxies
.   They send skeptics to examine the machine of the challenger, Steve Wiebe, an unemployed engineer in Redmond, Washington and then allege improprieties in the board itself and say his videotaped record isn't valid.   So Wiebe flies
cross-country to Funspot in Weirs, N.H., for the International Classic Game Tournament and beats the game - live, in front of witnesses and the referee from Twin Galaxies.
But Mitchell had sent a tape from his home in Hollywood, FL, of suspect quality and unknown lineage, beating Wiebe's new score, and the referee from Twin Galaxies,
Walter Day, accepted it within minutes.  Twin Galaxies revoked the top score a day later (not shown in the documentary) and 8 months later made it official.
As I wrote, Mitchell comes off looking rather poorly in the documentary.  Some of that is editing, of course, there is no question the filmmakers have their own skew and certainly had the ending in mind before they began.  When the Guinness Book of World Records asked Twin Galaxies to submit video game records, Wiebe knew time was running short and even flew to Mitchell in Florida to play against him but he couldn't beat Mitchell's videotaped score.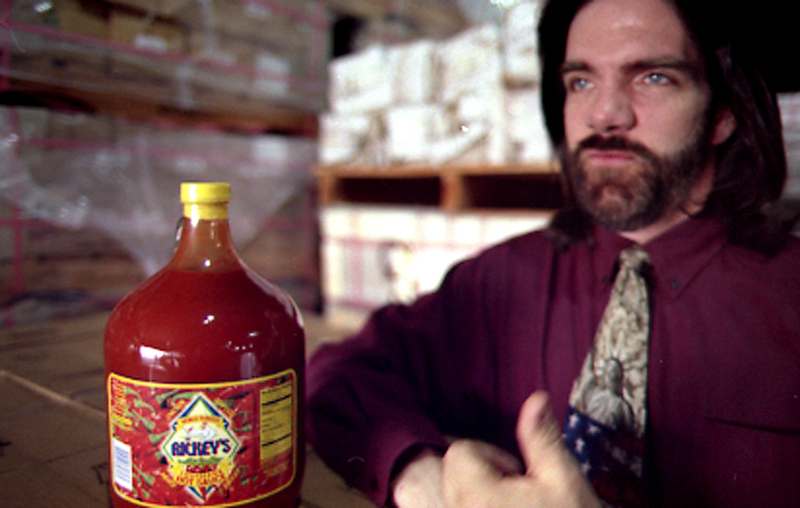 The patriotic tie, the immaculate hair, this guy is begging to be hated - but this could be me if a documentary filmmaker goes after me.  
Until March 23rd, 2007, when Wiebe sent another videotape - by now his credibility with Twin Galaxies established - showing a score of 
1,049,100 and the record.
And so "The King of Kong" ended but in July of 2007 
Mitchell and Twin Galaxies announced that he had reclaimed the top score with a record 1,050,200 points.  Not only did he have a referee to prove it, but he bought the game board off eBay, sent it to Nintendo of America headquarters in Redmond for verification, and then left it sealed until he put it in a machine, where it was kept under guard and the process filmed.
And so it was settled until a DVD submitted by a  
plastic surgeon from New York named Hank Chien introduced a third component into the controversy when he broke the record earlier this year with a score of 1,061,700.  
But one thing that Chien and Wiebe didn't count on; Mitchell
lives
this stuff.   
A few weeks ago, in
Ottumwa, Iowa at the International Videogame Hall of Fame, Mitchell took the record back.   Then, just to show he is still Billy Mitchell, he set a new record in Donkey Kong, Jr. as well.  
When asked why he stopped shortly after beating Chien's record
by a mere 1,100 points, Mitchell said, "Some say I'm being cocky. Some say I'm being lazy. I say, I'm being Billy Mitchell."
Can't get enough Billy Mitchell quotes like that?   You're not the only one.   So here you go.
And he certainly gets that he got a lot of detractors from his portrayal in the documentary but has kept a sense of humor about it, as you can see here: