I spent the day with the family at the zoo, idly thinking about physics, but not enough to blog about it yet. Since it is Memorial Day, a day when one should think about those who gave their lives for our liberty, I considered a war story from my family.

This is a story of my father's father, Arthur Sweetser, who I just found out made it to wikipedia posthumously. He had gone to Harvard University, the class of 1911, working as the business manager for the Harvard Crimson, a good place to start for a reporter. According to wikipedia, he "travelled the world after graduating college." These days kids have to travel between two jobs to pay off their debts. I think he may have met grandma whose home was in Chicago over in India, but those details are lost to me now. He came back to his home state of Massachusetts, a home for Sweetsers since the sixteen hundreds. Seth Sweetser (b. May 18, 1606 - d. May 24, 1662 according to the web) is buried in a cemetery right across the street from Bunker Hill Community College. I should drop in there some time.

Arthur Foster Sweetser wrote a lot. I guess I inherited that tendency, but never reached his level. I got a few of these really old journals, but with the hectic pace of modern life, had not set out to do anything with them. I felt guilty about that from time to time, so a few years ago, I opened one journal and saw on the first line, "Paris, Oct. 1." If that was Oct. 1, 1914, that would be a kind of crazy time to be in Paris. Archduke Ferdinand of Austria was gunned down in late June, the war starts up in July. The Germans went through Belgium, sending a group off to Paris. They got within 20 miles, making Paris a ghost town, but the French were able to push the Germans back in September in the Battle of the Marne (does anyone learn this stuff any more?). So by October 1, things were looking better, at least according to my grandfather:




I ended up scanning the journal and creating a book. So far, no buyers, but apparently it gets about 10 visits a month (the entire book is viewable on line). I enjoyed reading the optimism of the young man. He was an international humanist liberal kind of guy as the text reveals.

He went on to ride a bike behind the lines. I come from a line of bicyclists who do foolish things. His German captors got bored with him, and he continued on his journey. What little I know was that he was there for the Paris Peace Conference. There is the following funky old thing that hangs on my wall in the basement...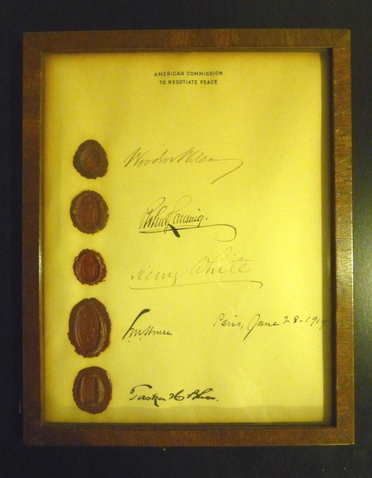 This is the "American Commission to Negotiate Peace", with wax seals next to five names. The first one is Woodrow Wilson, the President of the United States at the time. Henry White has an easy to read signature. I believe the fourth name is E M House, and important diplomat. The thing that struck me as I wrote this up was the date: Paris, June 28, 1919. That was the day the Treaty of Versailles was signed in the Hall of Mirrors. This was the team the US sent on that day. I am not sure if all five signed or just Wilson. The US Senate did not go along with the treaty, but that is another story.

Doug