Since COVID-19 emerged on the global scene, the heart has been the centre of action. Cardiovascular disease increases the risk of severe illness and death, and injuries to the heart and blood vessels are common complications.
Recent reports linking COVID-19 vaccinations of young adults to a heart condition called myocarditis are the most recent chapter in this story. Is this link a real-life medical mystery or a work of fiction?
What is Myocarditis?
Myocarditis is an inflammation of the heart muscle, typically caused by the immune system reacting to an infection. Other causes of myocarditis include lupus and Kawasaki disease. Myocarditis affects 1 in 5-10,000 people, although the rate is much higher in males under 30 years old.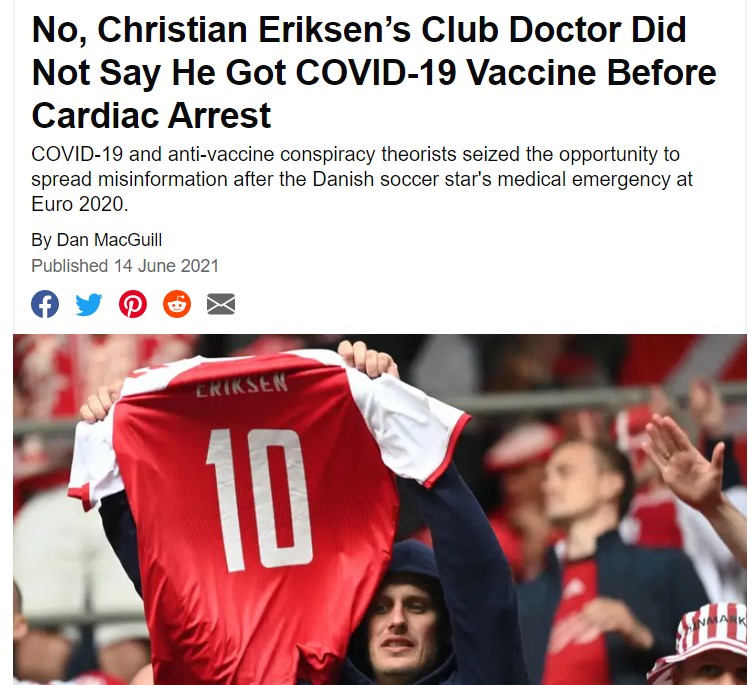 Danish national team midfielder Christian Eriksen suffered a heart attack during the Euro 2020 match against Finland on Saturday and anti-vaccine groups immediately tried to claim it was due to the COVID-19 vaccine. Credit: Snopes.
The Numbers
The first indication of a link between COVID-19 vaccines and myocarditis came from Israel. Among 5 million vaccinated people, 148 cases of myocarditis were reported. A majority of cases involved males, 16-24 years old. On June 10, Dr Tom Shimabukuro of the US CDC COVID-19 Vaccine Task Force cited 226 cases of myocarditis in vaccinated people under 30 that had been reported to the Vaccine Adverse Event Reporting System (VAERS).
Taken together these reports of myocarditis following COVID-19 vaccination in young people raise concerns: do the risks of myocarditis overwhelm the benefits of vaccination, particularly in a low risk population?
Interpreting the Data
The numbers reported by VAERS indicate an elevated rate of myocarditis following a second dose of mRNA vaccines in people <30 years old. While VAERS is an important resource to track adverse event related to vaccines, anyone can submit a report regardless of its veracity. Critics of VAERS point to numerous cases of abuse in the system, including claims of vaccine injuries related to car accidents and gunshots.
VAERS does not compare event rates with rates among unvaccinated people. The lack of comparison to the unvaccinated population is particularly problematic with myocarditis. As noted in a commentary by Drs. Sean O'Leary and Yvonne Maldonado in the journal Pediatrics, increases in reported cases of myocarditis "mirror the seasonal prevalence, sex, and age profile" of typical patients. In short, an increase in myocarditis may reflect a normal seasonal escalation that is detected because of enhanced vigilance.
In contrast to VAERS, the U.S. Vaccine Safety Datalink (VSD) failed to find increased rates of myocarditis associated with COVID-19 vaccines. VSD collects electronic health data from nine healthcare organizations and compares rates of adverse events between vaccinated and unvaccinated people. These reports require medical validation before submission, unlike VAERS.
Although Israel's Health Ministry concluded that there is a "probable link" between myocarditis and the second dose of the Pfizer vaccine among men under 30 years of age, the European Medicines Agency (EMA) notes that the investigation is on-going and a final report is expected in July. In fact, the EMA backed the European Commission decision to vaccinate 12-15 year old children, pointing out that rates of myocarditis following COVID-19 vaccination are similar to the rate in the general population.
Balancing the Benefits
Data clearly show that, in general, those under 18 years old have lower rates of severe illness and mortality from COVID-19. However, COVID-19 disproportionately affects racial and ethnic minority populations, and young people with pre-existing conditions including asthma and type 1 diabetes. Furthermore, a condition called "Multisystem Inflammatory Syndrome in Children" (MIS-C) has emerged as a post-COVID-19 complication. Like myocarditis, MIS-C causes heart inflammation. Vaccinations protect vulnerable populations and reduce complications.
Unvaccinated people of any age are reservoirs for new SARS-CoV2 variants. Without people to infect, the virus loses its ability to evolve into more dangerous strains. Studies from Israel and Public Health England found that people infected before full vaccination have significantly lower amounts of virus and are 50% less likely to spread SARS-CoV2. Leaving adolescents unvaccinated provides an opportunity for the virus to mutate and spread, leaving the global population at risk.
What Can Be Done?
Post-vaccination myocarditis is an exceptionally rare complication in young people. Cardiologists, paediatricians, and medical societies continue to support vaccination, pointing out that the benefits far outweigh the risks.
But a risk is a risk, and efforts should be undertaken to reduce it. How can the risk of post-vaccination myocarditis in young people be reduced?
COVID-19 vaccines trigger a potent immune response necessary for effectiveness, but mRNA vaccines are notably strong, particularly in young people. Lowering the dose – as has been done for children under 12 – or extending the interval between doses, could temper the immune response. These adjustments have already been made in some countries and may reduce the already low risk, while retaining the individual and community benefits of vaccination.
As with all vaccines and medications, post-approval monitoring should continue, and changes in the rates of myocarditis or any other adverse events should be publicly communicated. Data from verified reports do and should continue to inform public health guidelines, including who should and should not receive vaccines, and the protocols to administer them.