Well, it's now a merry Christmas for everyone except Nicholas Cage. The U.S. Army Chemical Materials Agency (CMA) announced Monday that as of Christmas Eve, 2008, they've completed the destruction of all munitions carrying VX gas in the possession of the U.S. Army. Unfortunately for Mr. Cage, this means that he's far less likely to be called upon to save San Francisco from rockets armed with the deadly gas by breaking into the former prison on Alcatraz Island aided by Sean Connery, as he proved he could do in Micheal Bay's 1996 film,
The Rock
.
Between 1961 and 1969, the U.S. synthesized approximately 4,400 tons of VX gas, a deadly nerve agent, at the Newport Chemical Depot. VX gas is the most stable and potent of all chemical warfare agents, attacking the nervous system and causing uncontrollable muscle convulsions, eventually leading to unconsciousness, paralysis, and respiratory failure. Had a rocket been detonated over San Francisco in
The Rock
, it would have caused the fictional deaths of over five million people.
The destruction of the last chemical weapon controlled by the CMA and armed with VX gas took place at the Anniston Chemical Agent Disposal Facility (ANCDF) in Anniston, Alabama. Destruction of weapons armed with the gas has been taking place at six disposal facilities over the last decade or so. December 24th marked the final demise of such munitions, in the form of a land mine.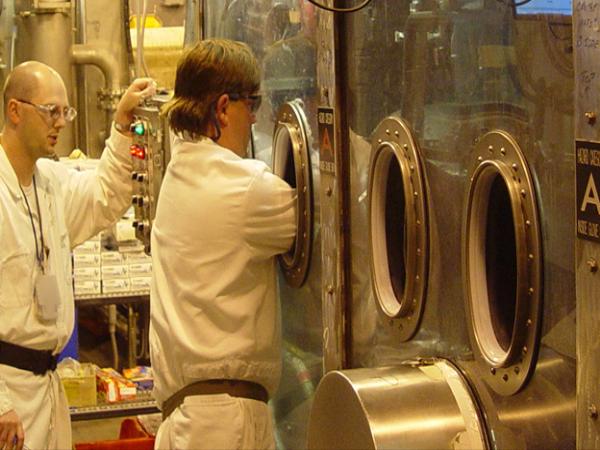 Finally:
Workers disarm and remove VX gas from the last land mine under control of the CMA. Photo Credit: U.S. Army Chemical Materials Agency
All the remaining VX gas munitions currently in the possession of the U.S. government is stored in the Bluegrass Chemical Activity near Richmond, Kentucky. Other chemical weapons are stored by the CMA in Pueblo, Colorado. The U.S. Army Element Assembled Chemical Weapons Alternatives, overseen by the Department of Defense, is in charge of destroying the remaining VX gas munitions and is currently constructing a plant to do just that. As it stands, about 40% of the original VX stockpile remains to be incinerated or neutralized, making it approximately twice as hard for an overzealous Ed Harris to steal some and hold a large metropolitan area hostage in exchange for large sums of money.
The CMA and ANCDF are rightfully proud of their achievements."I commend Anniston and all CMA destruction sites on this extraordinary achievement. By destroying the VX agent at each of CMA's destruction sites, you have made the world a much safer place," said Conrad Whyne, Director of CMA. The ANCDF Site Project Manager, Timothy K. Garrett, declared, "We have reached a truly remarkable milestone following more than five years of deliberate, but careful operations. All nerve agent munitions -- those containing GB and those containing VX -- have been safely processed."
It's refreshing to see that the military is taking up and fulfilling promises such as anti-chemical warfare obligations, even though the U.S. has never used VX gas in combat before. Chemical weapons have horrific and often indiscriminate effects, so much so that a 1993 UN resolution bans all use and stockpiling of weapons such as VX.
"The elimination of this deadly chemical agent from each site's stockpile is a relief to the stockpile communities, and a sign of our commitment to other nations as we move one step closer to a safer world," said Mr. Whyne.
Chances are (and we, of course, can only hope) that Mr. Cage will never have to use his extensive chemical weapons training to disarm rockets pointed at a U.S city. The rest of us can rest a little easier knowing that in the new year we'll be just a little bit safer.
---
U.S. Army Chemical Materials Agency
- Details the progress of the destruction of chemical weapons in the U.S.