Your local multiplex has been packed with superheroes lately: Robocop, Captain America and Spider-Man have wowed us this year and Superman, Batman and the Avengers are waiting in the wings.

But have you ever noticed how unlikely each hero is? A maimed policeman, a teenager bitten by a radioactive spider, an orphan who starts dressing like a bat—on the face of it, they don't sound very helpful. But each winds up saving a boatload of folks who need to be protected from the forces of evil.
Now consider diabetes care. It's long been advised that people with this condition manage their carbohydrate intake, either via "counting carbs" or other tactics. This is because excessive carbs can cause one's blood sugar levels to spike, a major problem for diabetes patients. Carbs can be enjoyed, but in moderation, and they certainly can't serve as the basis of diabetes treatment...or can they?
As unlikely as it might sound, the answer is yes.Even as high carbohydrate intake can lead to a rise in blood sugar and increase one's risk of diabetes, research suggests that complex carbohydrate chemistry is one key to reducing the uptake of sugar into the bloodstream.
Researchers are developing a non-systemic, non-toxic chewable complex carbohydrate-based compound named BTI-320. It will have the ability to lower post-meal elevation of blood glucose, and thus as a treatment to delay or prevent the onset of Type 2 diabetes and related complications. The compound, designed to be taken before meals, operates in the gastrointestinal tract to block the action of enzymes that break down carbs in foods during digestion, lowering the amount of available glucose absorbed via the intestine.

I'm really excited about its potential because I know it quite well - I am CEO of the company.
A paper published in 2013 in the journal Endocrine Practice reported positive clinical trial results of BTI-320 in patients with Type 2 diabetes conducted at Dartmouth Medical Center. In the study, 45 percent of patients already taking a standard diabetes drug, metformin, insulin and other diabetes drugs, responded to BTI-320 with a 40 percent reduction of post-meal glucose in the blood.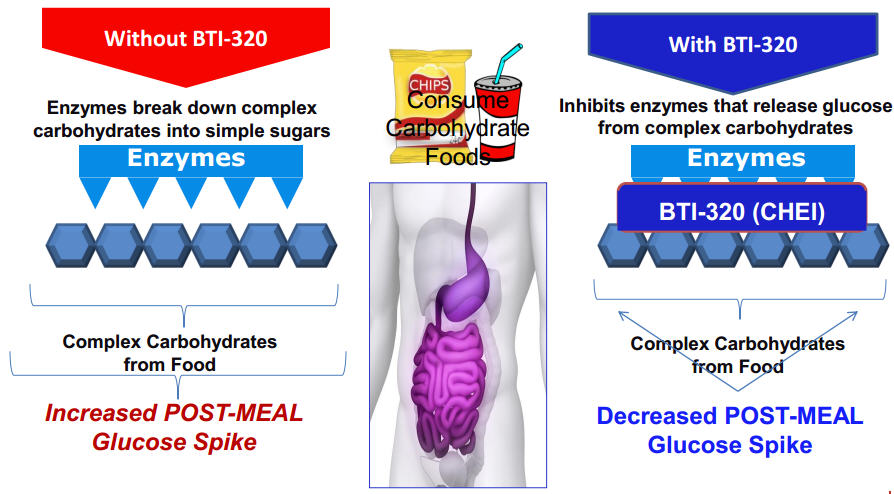 BTI-320 mechanism of action. CHEI is Carbohydrate-hydrolyzing enzyme inhibitor. Credit: Boston Therapeutics.

The results led us to announce the initiation of additional clinical trials with this treatment candidate in the US and France. The company recently signed an agreement with Patheon Inc. to manufacture pharmaceutical-grade tablets of BTI-320 in anticipation of an upcoming Investigational New Drug (IND) application filing with the U.S. Food and Drug Administration later this year, as well as a pivotal Phase III international clinical trial involving BTI-320 in 2015.
Just as those unlikely heroes Steve Rogers, Peter Parker and Bruce Wayne wound up helping thousands of people in the guise of Captain America, Spider-Man and Batman, the unlikely heroes known as carbs — in the new guise of complex carbohydrate drugs — might improve the lives of many people with diabetes.
Citation: Trask LE, Kasid N, Homa K, Chaidarun S, 'Safety and efficacy of the nonsystemic chewable complex carbohydrate dietary supplement PAZ320 on postprandial glycemia when added to oral agents or insulin in patients with type 2 diabetes mellitus', Endocr Pract. 2013 Jul-Aug;19(4):627-32.
doi: 10.4158/EP12327.OR.