A few years ago, after concern about the administration's efforts to use EPA to pick and choose winners in the private sector reached a crescendo, the U.S. Government Accountability Office
found that EPA
"violated publicity or propaganda and anti-lobbying provisions contained in appropriations acts with its use of certain social media platforms in association with its "Waters of the United States" (WOTUS) rulemaking in fiscal years 2014 and 2015."
It was a shockingly bold attempt by the federal government to use water regulations to penalize the public.
It wasn't an isolated event. It was a kind of junk science that EPA engaged in far too often. They
declared water a pollutant in Virginia
, NRDC and Sierra Club wrote government documents
against
coal
and
natural gas
, when they weren't
blaming natural gas for issues without doing any studies,
which a court forced them to stop doing. EPA Administrators Lisa P. Jackson and Carol Browner were both found to have
used secret email addresses

to avoid Freedom of Information Act (FOIA) requests
about their efforts to torpedo non-solar energy companies,
If people are unhappy about the EPA by comparison now, it is only because if you are far on one side, the middle looks like the other side.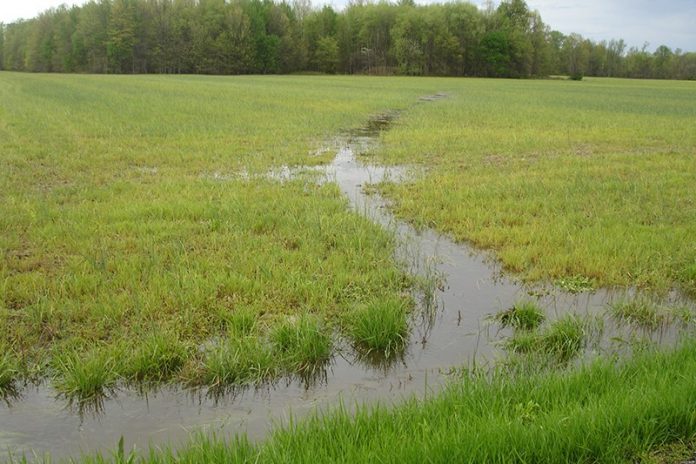 Under the 2015 WOTUS proposal, this was a navigable water of the United States. You have to wonder how many Coast Guard vessels this can hold at once. Image: AgWeb
People who engage in politicization of science will engage in political spin, like claiming new EPA regulations on water will make our water dirtier even though the old WOTUS restrictions never took effect in the first place. Color-enhanced images of frogs in toxic green sludge had nothing to do with WOTUS, it simply expanded federal control over any body of water in the country they wanted to control. Since
EPA handed over the names and addresses of 80,000 agricultural workers "by mistake" to eco-terrorist groups
, it was entirely possible the federal government would use water to target political enemies
The EPA and its political allies insisted that American farmers in 2015 cared less about the environment than Republican President Richard Nixon in 1972, when the Clean Water Act, which made it a federal crime to discharge pollution into navigable waters, was passed. So they changed the definition of "navigable waters." In doing so, they could now tell farmers what crops to plant, and what pesticides to use, because all they needed was to show that traces of a chemical from a farm could eventually reach a body of water. The chemicals didn't need to be at harmful levels, EPA also began to accept epidemiology statistical correlation in place of biology, chemistry, and toxicology.
The new rules make a lot more sense - because there are definitions
Since we can literally "detect anything in anything" now, farmers were going to be prime targets for the environmental trial lawyers EPA had been negotiating "sue and settle" agreements with all along.
Not now.
Under the new rules
, no longer will farm ditches, livestock watering ponds, and puddles that form only during rain storms (that's not a joke, the old WOTUS included it all) be the target of a federal agency. Instead, wetlands next to federal waters, actual territorial seas and navigable waters and their tributaries, and larger lakes and ponds will be under federal oversight. That is good for everyone.
The 2015 WOTUS rules never took effect so it has been silly for environmental law firms to claim Trump was killing our water supply. There are now more regulations than we had during the Obama administration, but they are based on solid evidence and not simply the wish list of legal teams who have a lot of political allies in their audience.
Failure may have been the plan all along. This was a political, not a scientific effort, so the Obama administration may have been doing favors in the run-up to the 2016 election knowing courts would block it. It's the effort that counts. Even if they lost, trial lawyers had something new to raise money on. Everyone was going to win using that strategy - except American farmers who didn't vote Democrat and would maybe get their children's names handed over to Earth Justice and Natural Resources Defense Council in retaliation.
U.S. Secretary of Agriculture Sonny Perdue clearly regards this as a win for agriculture. "President Trump is restoring the rule of law and empowering Americans by removing undue burdens and strangling regulations from the backs of our productive farmers, ranchers, and rural land-owners. The days are gone when the Federal Government can claim a small farm pond on private land as navigable waters," he said. "I thank President Trump and Administrator Wheeler for having the backs of our farmers, ranchers, and producers and for continuing to roll back Federal overreach. With reforms and deregulation, Americans once again have the freedom to innovate, create, and grow."
And it isn't going to hurt water one bit.