In almost all forms of heart failure, the heart begins to express genes that are normally only expressed in the fetal heart. Researchers have known for years that this fetal-gene reactivation happens, yet not what regulates it. Now, investigators at the University of Pennsylvania School of Medicine have discovered that an enzyme important in fetal heart-cell development regulates the enlargement of heart cells, known as cardiac hypertrophy, which is a precursor to many forms of congestive heart failure (CHF).
The study, which paves the way for new targets for treating cardiac hypertrophy and heart failure, appears in an advanced online publication of Nature Medicine.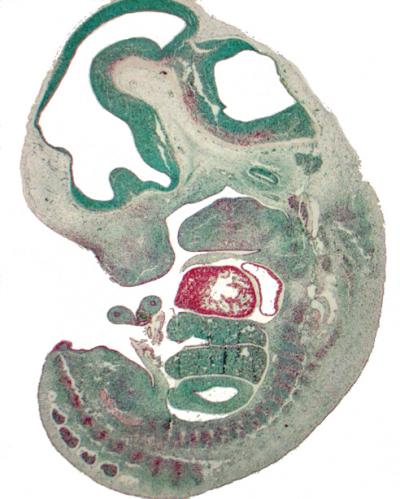 Cross-section of expression of HDAC2 (red) in mouse fetal heart. Credit: Jonathan A. Epstein, MD, University of Pennsylvania School of Medicine, Nature Medicine
"It's as if old programs are being reactivated in a sick heart," explains senior author Jonathan A. Epstein, MD, the W.W. Smith Endowed Chair for Cardiovascular Research at Penn. "In an adult heart, stresses such as high blood pressure induce the reexpression of a fetal gene program."
The investigators found that by inhibiting the enzyme HDAC in adult mice the fetal-gene program can be prevented from restarting. "We found that in various mouse models of cardiac hypertrophy and heart failure, treatment with chemical HDAC inhibitors or genetic deletion of HDAC2 prevented the beginning of the downward slide to progressive heart failure," says Epstein.
HDAC is an enzyme switch that regulates how DNA is packaged inside the cell, and therefore how large groups of related genes are turned on and off. During development HDAC normally regulates proliferation of heart cells in the embryo. "This makes sense if a molecular pathway in which HDAC has a major role is re-expressed--the adult heart instead makes the cells it already has bigger since it is unable to make more cells very easily."
The researchers also found that HDAC works in the heart in part by regulating expression of another enzyme called Inpp5f, which is involved in a pathway that controls the growth and multiplication of cells. Inpp5f is also related to tumor-suppressor genes involved in cancer.
"HDAC and Inpp5f give us new targets for regulating cardiac hypertrophy," says Epstein. "Inhibitors of HDAC may warrant testing for cardiac disease to stop the hypertrophy that accompanies the re-expression of the fetal-gene program."
HDAC inhibitors are already in trials for cancer and one, valproic acid, has been used for years to treat seizures. Most CHF medications are aimed at regulating blood pressure, but very few are targeted at the heart-muscle cells themselves. About 5 million Americans are living with CHF today, according to the American Heart Association.
"To understand how to better treat heart disease at the cellular level is an important next step," says Epstein.
Written from a news release issued by University of Pennsylvania School of Medicine