Though the continental United States hasn't had a major hurricane in almost 10 years, the rest of the world hasn't been so lucky. Japan just had a typhoon, India a cyclone, and, with Gonzalo, Bermuda is about to have its first major Atlantic hurricane in three years.
Hurricane Gonzalo has made the jump to major hurricane status and on
October
15th was a Category 4 storm on the Saffir-Simpson Hurricane Scale. NOAA's GOES-East satellite provided imagery of the storm. According to the National Hurricane Center, Gonzalo is the first category 4 hurricane in the Atlantic basin since Ophelia in 2011.
NOAA's GOES-East satellite provides visible and infrared images of weather from its orbit in a fixed position over the Earth. On October 15th at 15:15 UTC (11:15 a.m. EDT) GOES saw Gonzalo had tightly wrapped bands of thunderstorms spiraling into the center of its circulation.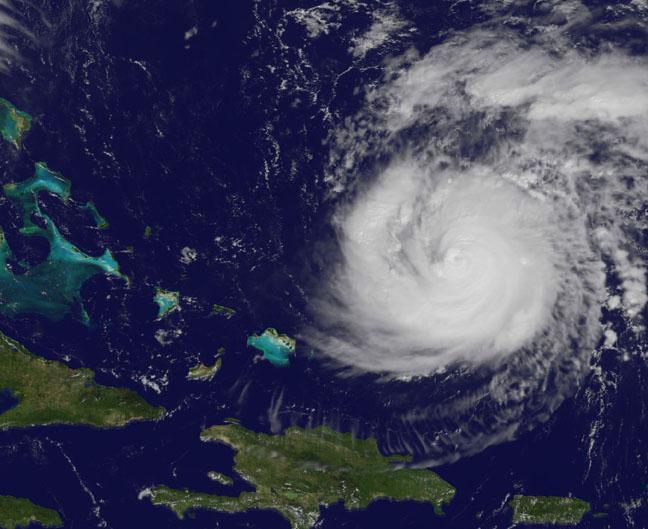 The eye of the storm was obscured by high clouds in the image. NOAA aircraft data and microwave images clearly show concentric eyewalls, with the inner radius of maximum winds now only about 4-5 nautical miles from the center.
Large swells generated by Gonzalo are affecting portions of the Virgin Islands, the northern coasts of Puerto Rico and the Dominican Republic and portions of the Bahamas. Swells will reach much of the east coast of the United States and Bermuda on Thursday.
By late
October
16th, Gonzalo is expected to turn to the northeast and the center is expected to approach Bermuda sometime on
October
17th.