In the first James Bond novel,
Casino Royale
(1953), British MI6 agent James Bond designed his own martini, comprising three measures of Gordon's gin, one of vodka and half a measure of Kine Lillet (vermouth) shaken until it's ice cold and served with a slice of lemon peel.
He named it a 'Vesper' after his love interest Vesper Lynd but he never drank the Vesper again in the books.
Shaking a martini was...working class. Drink experts knew then and know now that you don't do it, because it aerates the drink as ice breaks off. You shake drinks with egg or citrus. It is believed that Fleming had his anti-hero order it shaken to thumb his nose at elites.
The recent James Bond films have been more of a working class Bond - he drank a Heineken in the last movie, which even Dutch people don't do - whereas Roger Moore's 1970s Bond was so upper class he never even had to order a martini for himself. When the modern Bond was asked how he wanted his martini mixed he replied, "Do I look like I give a damn?"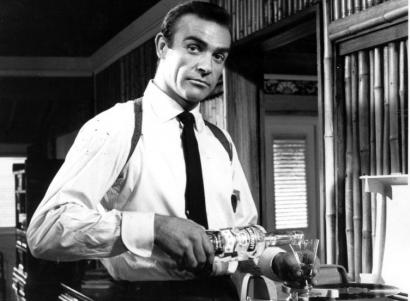 We can thank branding for the return to the old Bond - Belvedere, a luxury Polish vodka brand, has signed a lucrative partnership deal to appear in the upcoming Bond film. Professor James Chapman from the University's Department of the History of Art and Film and author of 'Licence to Thrill: A Cultural History of the James Bond Films' explains why brand is so important when it comes to Bond. "James Bond has always been associated with high-end consumer goods, especially when it comes to food and drink. Ian Fleming's books are replete with references to brand names. These served two purposes. In the social context of post-war Britain - the first Bond novel Casino Royale was published in 1953 - the prominence of brand-name products was a sign of the shift from wartime austerity to post-war affluence. And Bond's expensive tastes reflected a fantasy world in which access to consumer products went hand in hand with his sexual prowess."
It's no secret that Bond's drinking habits have always been a central aspect of the James Bond lifestyle. Chapman explains: "Fleming's Bond famously invented the 'Vesper' martini in Casino Royale, and, while his preferred drink was bourbon, the vodka martini was there for special occasions such as his dinner at M's club Blades (Moonraker) and his sumptuous dinner with American millionaire Mr Du Pont (Goldfinger). And of course a world-class super villain such as Dr No would not dream of serving anything else.
"Fleming's Bond expresses a preference for Russian or Polish vodka (Dr No). He developed a taste for vodka while attached to the British Embassy in Moscow. However some of the vodka he tasted during those years was "bath tub liquor". He borrowed a trick from the Russians of sprinkling pepper on the surface to draw off the fusel oil. M is amused when Bond does this with the club's finest Wolfschmidt from Riga. Of course this was a time when vodka was an expensive import to Britain and not widely consumed."
The vodka martini became Bond's drink of choice in the James Bond movies – beginning with Dr No in 1962 when Sean Connery's Bond is first seen drinking a "medium dry vodka martini" with a slice of lemon peel.
In the books Bond drinks vodka martinis and expresses a preference for Russian or Polish vodka. He has a preference for pink champagne (especially Taittinger) to drink with scrambled eggs. In the films Bond's tastes also extend to raki (From Russia With Love), Mintjulep (Goldfinger), sake (You Only Live Twice) and a Mohito (Die Another Day). His favorite champagne in the films is Bollinger. The least said about a Thai wine called Phu Yuck (The Man With the Golden Gun) the better.
Bond's most excessive consumption is probably in the first two chapters of Goldfinger where in the course of one evening he drinks four double bourbons, two vodka martinis as an aperitif, and a pint of pink champagne (served in a silver tankard) with his dinner of stone crabs. In Thunderball, Bond's medical dossier reveals that his average daily alchohol consumption is "in the region of half a bottle of spirits of between sixty and seventy proof".
"In Skyfall (2012), the fiftieth-anniversary Bond movie, 007 was controversially seen drinking Heineken in preference to his usual martini. But this was a temporary aberration as Bond had been accidentally shot while on a mission and at the time was presumed dead. The news that Bond will once again be drinking premium vodka in the forthcoming film Spectre will be welcomed by all Bond fans as a return to the true 007," says Chapman.
Source: University of Leicester