Khabarovsk Krai, a territory occupying the coastline of the Sea of Okhotsk, is on fire. Dozens of red hotspots, accompanied by plumes of smoke mark active fires. The smoke, which appears mostly white or grey, blows to the east towards the Sea of Okhotsk.
Taiga and tundra are found in the north of this area, swampy forest inhabit the central depression, and deciduous forests are the natural vegetation in the south.
While large wildfires are common in Russia in the summer, the 2014 wildfire season appears to be more intense than usual. According to Russia's ITAR-TASS news agency, some 12,600 forest fires had burned over 1.8 million hectares (7,000 square miles) as of July 16, 2014. That's about three times more than last year at that point, according to statistics maintained by Russia's federal forestry agency.
It looks as though the wildfires are not dying down yet as evidenced by this natural-color satellite image taken by the Moderate Resolution Imaging Spectroradiometer (MODIS) aboard the Aqua satellite on September 22, 2014. Actively burning areas, detected by MODIS's thermal bands, are outlined in red.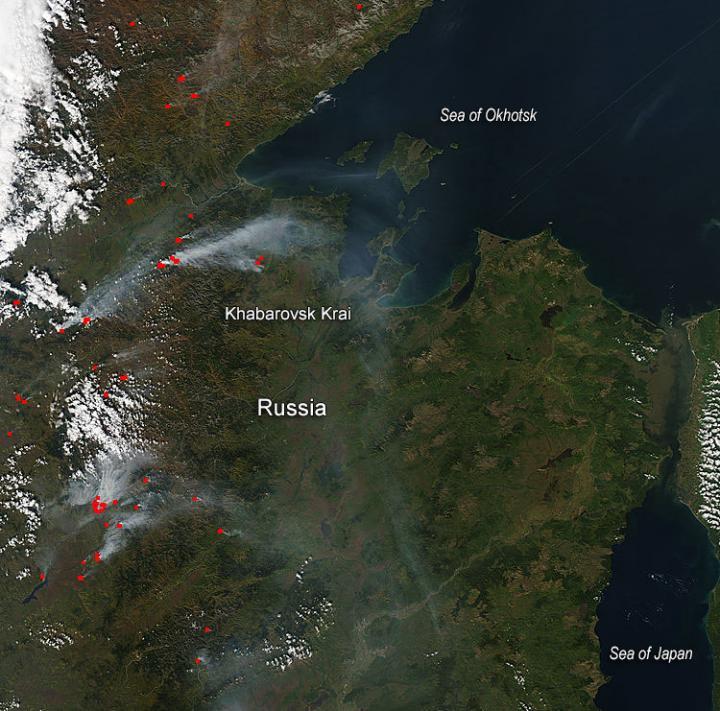 Most of the fires captured in this image burn in Khabarovsk Krai, a territory occupying the coastline of the Sea of Okhotsk. Dozens of red hotspots, accompanied by plumes of smoke mark active fires. Credit: NASA image courtesy Jeff Schmaltz, MODIS Rapid ReNASA image courtesy Jeff Schmaltz, MODIS Rapid Response Team. Caption: NASA/Goddard, Lynn Jennersponse Team. Caption: NASA/Goddard, Lynn Jenner