Mission Accomplished. Now it's time to go back home.
After two space shuttle missions and almost two decades, astronaut Mike Massimino has left NASA for Columbia University in New York. During the final servicing mission of the Hubble Space Telescope in 2009, Massimino became the first astronaut to tweet from space, and he now has nearly 1.3 million followers.
Massimino is a native of New York and got his undergraduate degree from Columbia University. He joined NASA in 1996 where he served in the Astronaut Office Robotics Branch and in the Astronaut Office Extravehicular Activity (EVA, or spacewalk) Branch. Following his first spaceflight, he served in 2002 as a spacecraft communicator in mission control and as the Astronaut Office Technical Liaison to Johnson's EVA Program Office.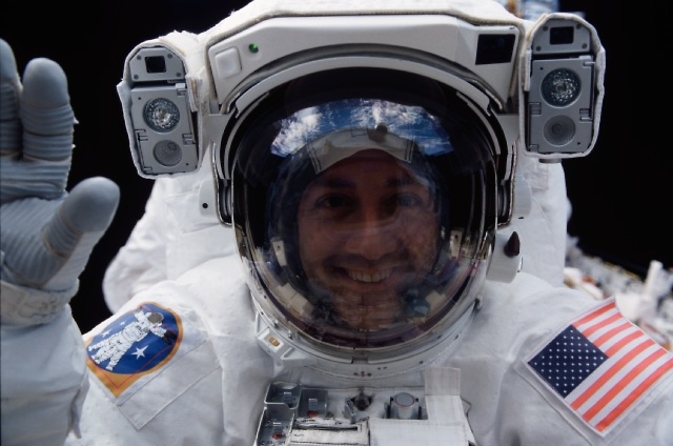 Astronaut Michael J. Massimino, STS-109 mission specialist, peers into Columbia's crew cabin during a brief break in work on the Hubble Space Telescope, latched down just a few feet behind him in Columbia's cargo bay, during his second extravehicular activity of STS109 on March 5, 2002. Credit: NASA
He logged more than 570 hours in space, including 30 hours of spacewalks. His first mission was STS-109 in 2002, during which the seven-person Columbia crew successfully upgraded Hubble with a new power unit, Advanced Camera for Surveys, and solar arrays. STS-109 set a mission record for spacewalk time with 35 hours and 55 minutes over five spacewalks. Massimino performed two spacewalks during STS-109 totaling 14 hours and 46 minutes.
During STS-125, Massimino spent six days servicing and upgrading Hubble with the assistance of crewmates aboard shuttle Atlantis. STS-125 overtook the record set on STS-109, with 36 hours and 56 minutes over five spacewalks. Massimino's spacewalks on this mission totaled 15 hours and 58 minutes.
Now it's time to leave Houston and head back to The Big Apple and the Ivy League world of upper Manhattan. You've earned it, Dr. Massimino.
Source:
NASA