The Newborn Tory S2210 is the industry's most advanced, life-like newborn patient simulator, according to manufacturer Gaumard Scientific Company.
Fully tetherless and wireless, Newborn Tory enables health care professionals to easily administer and monitor simulated care as they transition from the delivery room to the operating room, the nursery or the NICU, while training for a large number of programmable scenarios. Tory integrates seamlessly with Gaumard's Victoria Birthing Simulator via a wireless link, allowing healthcare providers to first tend to labor and delivery and then stabilize or treat the newborn.
Newborn Tory's features include:
Lifelike appearance, weight and size
Soft, smooth, and realistic outer skin that fully covers a realistically articulating endoskeleton
Tetherless mobility with wireless controls
Realistic airway anatomy and CPR training features
Compatibility with real ECGs and other hospital equipment
Programmable vital signs that allow for APGAR and other critical assessments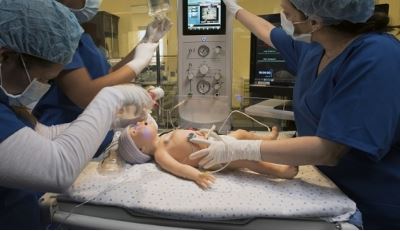 Newborn Tory S2210. Credit: Gaumard Scientific Company.
Professor Henry Henao, Director of the Simulation Teaching and Research Center (the STAR Center) at the Nicole Wertheim College of Nursing and Health Sciences at Florida International University, said, "I have had the opportunity to spend some time with Newborn Tory. The look, feel, and functionality of TORY are a marked improvement in achieving a higher level of fidelity or realism by a simulator. Tory represents cutting edge design and engineering for simulation education. This contributes to the overall realism of the simulation environment and allows simulation educators to provide a more immersive experience."
Gaumard will demonstrate Newborn Tory, Victoria and other patient simulators at Booth No. 524 at the Association of Women's Health, Obstetric and Neonatal Nurses (AWHONN) 2015 Convention, June 13-17, in Long Beach, California.