A new systematic review says that no-take zones in Belize are helping rebuildeconomically valuable species such as lobster, conch, and fish - and perhaps also helping to re-colonize nearby reef areas.
The literature in the review was from no-take areas around the world.
According to other papers, the recovery of lobster, conch, and other exploited species within marine protected areas with no-take zones, or fully protected reserves, could take as little as 1-6 years. Full recovery of exploited species, however, could take decades.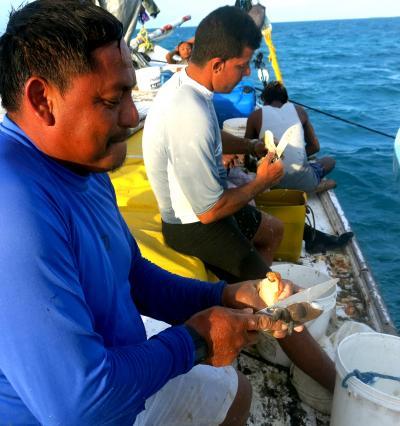 "Belize has been a leader in the region for establishing marine protected areas and has a world-renowned system of marine reserves, many of which form the Belize Barrier Reef Reserve System World Heritage Site," said Janet Gibson, Director of the Wildlife Conservation Society's Belize Program. "It's clear that no-take zones can help replenish the country's fisheries and biodiversity, along with the added benefits to tourism and even resilience to climate change."
WCS commissioned the report by
Dr. Craig Dahlgren
to describe the performance of no-take zones in Belize and in other countries to ultimately conserve highly diverse coral reef systems. In many coastal marine ecosystems around the world, overfishing and habitat degradation are prompting marine resource managers to find ecosystem-based solutions.
The report also examines factors affecting the performance of no-take zones, such as the design, size, location, and factors of compliance with fishing regulations.