The top prize in the annual Purdue
Student Soybean Product Innovation Contest
went to Carmen Valverde-Paniagua of Chihuahua, Mexico, a senior majoring in mechanical engineering, Nicole Raley Devlin of Rockville, Md., a doctoral student in chemical engineering, and Yanssen Tandy of Jarkarta, Indonesia, a senior student in chemical engineering (team name S3D Innovations) for their invention of Filasoy, a next generation 3D printing material.
Filasoy replaces petroleum-based plastic with a low-energy, low-temperature, renewable and recyclable filament. It retains similar properties found in a bioplastic with an added "green" twist: It allows printing without waste. The team will receive a $20,000 prize.
The runner-up team, Soots, produced a 100 percent organic leather boot conditioner and polish by the same name. The product comes in two forms: One, made from soybean oil and beeswax, is a thick, more solid polish for genuine leather such as boots and reins and also serves as a waterproofing agent.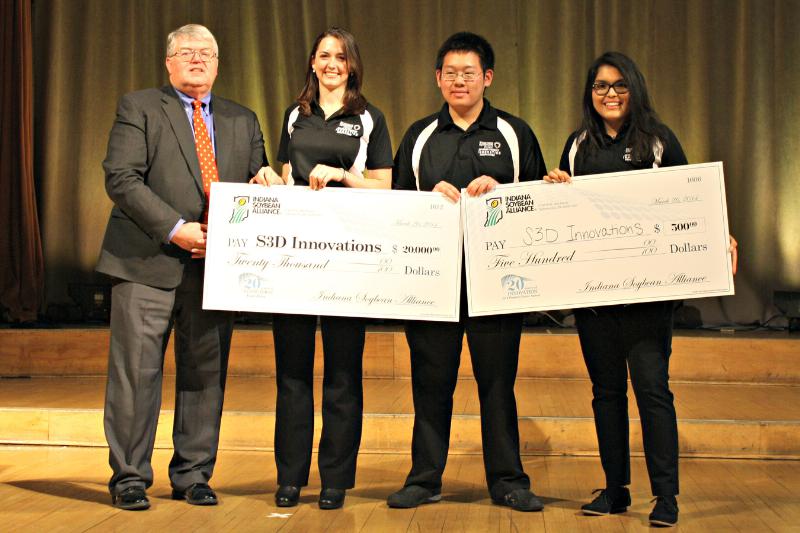 From left, ISA President David Lowe presents a check to Team Filasoy members Nicole Raley, Yanssen Tandy and Carmen Valverde-Paniagua. Credit: Indiana Soybean Alliance
The product is safe for the environment and not harmful to animals. The second product is a much lighter conditioner, in the form of a spray, that can be used on faux leather items. It is used more for cleaning and improving appearance than waterproofing.
The team will receive a $10,000 prize. Members are Sean Anderson of Churubusco, Ind., a junior in forestry; his brother, Evan, a sophomore in agricultural engineering; and Sara Richert of Oak Park, Ill., a sophomore in agricultural engineering.