The Trump administration has issued a n
otice of proposed rulemaking (NPRM)
that would allow for the importation of certain prescription drugs from Canada. In addition, the Administration is announcing the availability of a new draft guidance for industry that describes procedures drug manufacturers can follow to facilitate importation of prescription drugs, including biological products, that are FDA-approved, manufactured abroad, authorized for sale in any foreign country, and originally intended for sale in that foreign country.
Yes, you can buy drugs cheaper from other countries - because they force manufacturers to sell them cheaper. Rather than create similar rules in the US, or allowing more competition, the US is going to let Canada pay a lower price and then import them from there.
The draft guidance describes procedures to submit documentation that demonstrates the imported drug is an FDA-approved drug product, and is manufactured in accordance with the FDA-approved application. Eligible prescription drugs would have to be relabeled with the required U.S. labeling prior to importation and undergo testing for authenticity, degradation, and to ensure that the drugs meet established specifications and standards.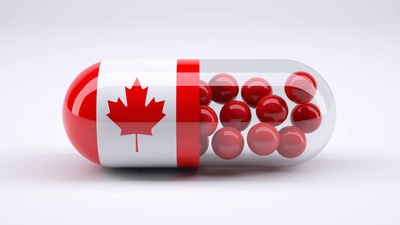 Credit: Shutterstock
Most important, they have to be significantly cheaper, important when increased government control of health care has caused consumer costs to skyrocket this decade.
What will this do to Canadian prices?
Canadian pharmacies routinely complain of shortages so what will companies do in response to this increased demand, knowing that the target could be the U.S.? Sell more to Canada at lower profit? Not likely. Other countries benefit from the "free rider" effect; they can pay less only because the U.S. pays more.
On the demand side,
if even 20 percent of Americans start buying Canadian drugs
, Canadians would have nothing in a few months.
States and other non-federal government groups can submit importation program proposals to the FDA for review and authorization which can be co-sponsored by a pharmacist, a wholesaler, or another state or non-federal governmental entity. Referred to as Section 804 Importation Programs, these programs would be authorized by the FDA to manage the importation of certain prescription drugs that are approved in Canada and also meet the conditions in an FDA-approved drug application.
Of note, the draft guidance describes procedures drug manufacturers could follow to obtain an additional National Drug Code (NDC) for certain FDA-approved prescription drugs, including biological products, that were originally manufactured, and intended to be marketed, in a foreign country. The use of an additional NDC would allow greater flexibility for drug companies to offer these products at a lower price than what their current distribution contracts require.
Comments on this NPRM are being accepted for 75 days after publication in the Federal Register and comments on the draft guidance are being accepted for 60 days after publication in the Federal Register.