All men and women to the atlases!
I do not know about you, but when there is some big event going on in the world, positive or negative, I run for maps. I want to know exactly where the action takes place. These days the news in Norway are filled with the dramatic
terror attack
on the In Amenas gas field in
Algeria.
Several of the hostages are Norwegian and our oil company Statoil is running the site together with British BP and Algeria's state-own oil company. The most used sentence both by politicians and journalist is "we do not know". There are several reasons for that, and geography is one of them.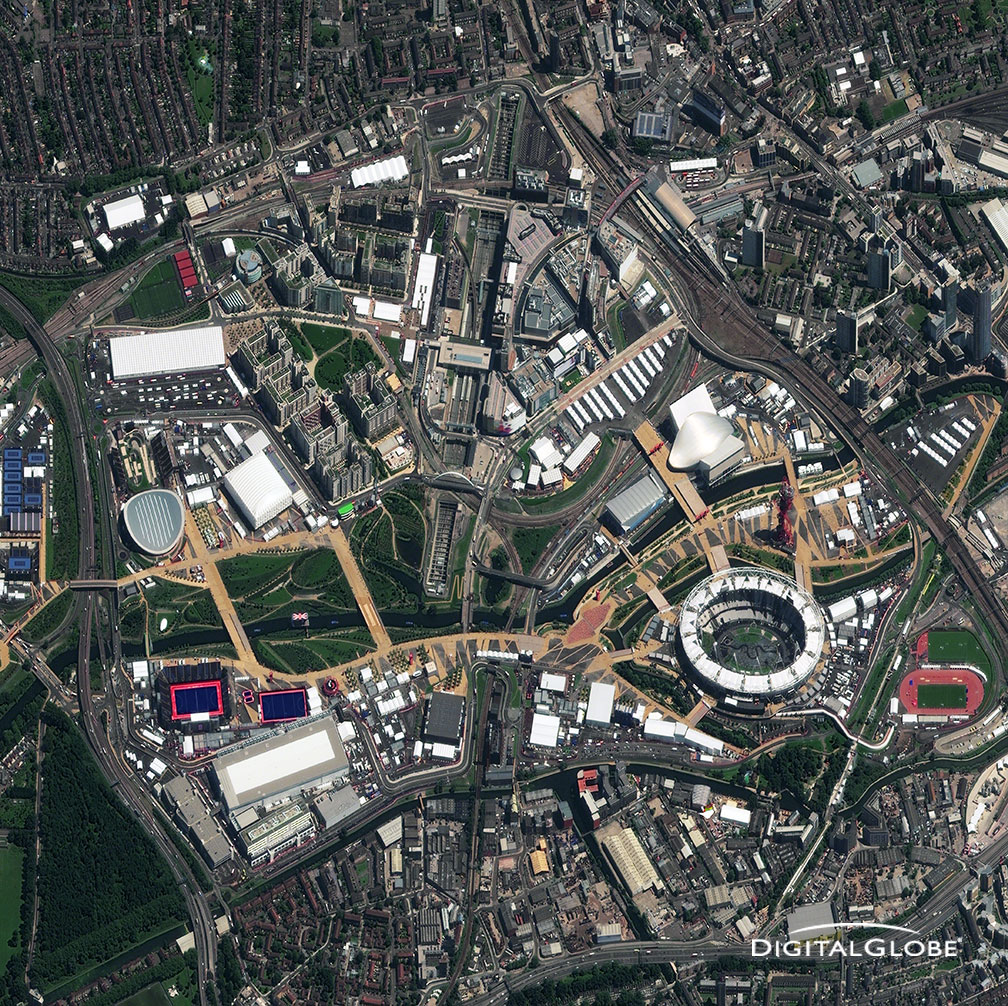 Satellite images surface during big events. Here is one from a positive event, the Olympic Games in London, 2012. This image is high resolution and it is expensive to purchase these high quality images. In the future however, these kind of products will be part of public services. Credit: Digitalglobe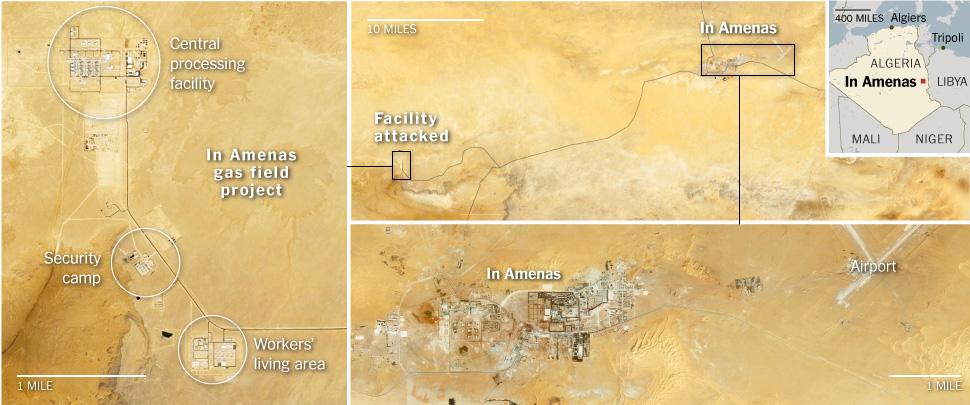 This basically summarizes the information we can access from the situation in In Amenas gas field in Algeria. Not very much. Credit: Digitalglobe. (via NYT)
One event like the terror attack in In Amenas does not merit being called 'Land of Terror'. Algeria is however home to the 'Land of Terror'. Right smack in the middle of the Saharan desert, in south-central Algeria there is a place that is particularly hostile. It is due to its lack of water and vegetation that the Tanezrouft Basin is called 'Land of Terror'.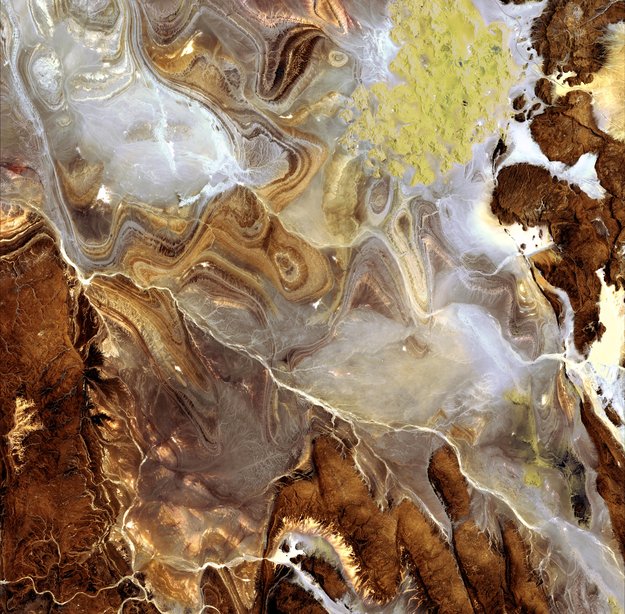 'Land of Terror' in south-central Algeria. Credit: Jaxa/ESA
We are all craving for information about what is going on in the Algerian desert right now. Most of all those with relatives in the area of course, be it relatives of the hostages, or relatives of those who try to resolve the situation.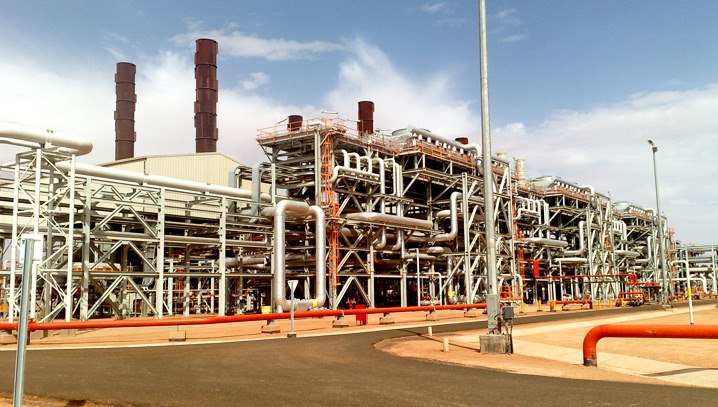 In Amenas gas field, the temporary 'land of terror'. Credit: BP
In Amenas gas field, where the hostage situation is taking place, is situated in the middle of the Saharan desert North-east of the 'Land of Terror'. People are living and working there in what looks nothing like an oasis, I have to say. Pipelines have their aesthetics, sure, but I prefer oasis in a more traditional meaning of the word.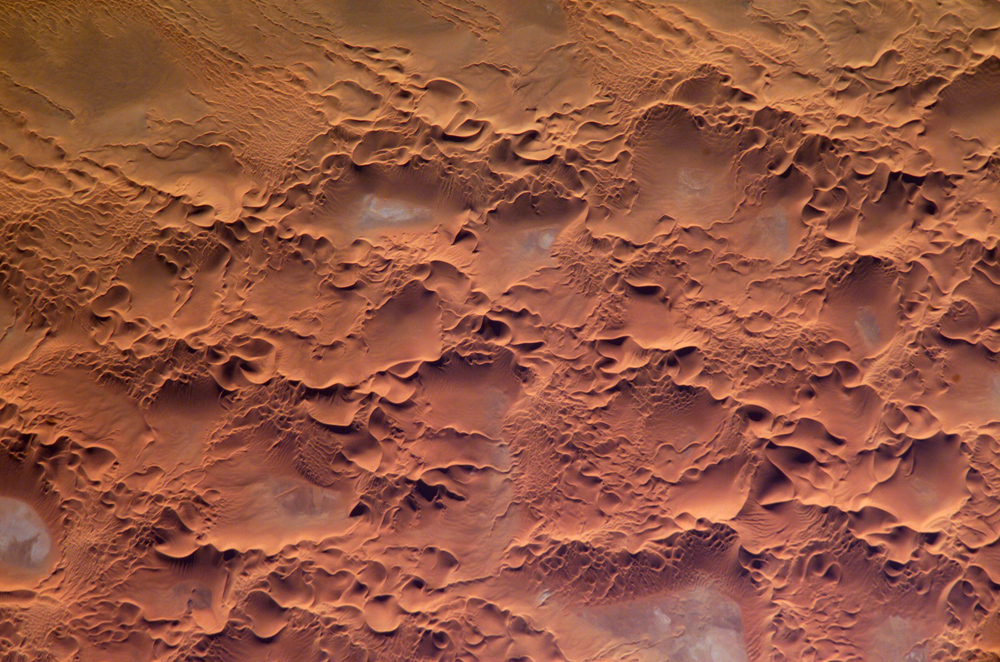 Sand dunes slightly south of In Amenas, more precisely The Issaouane Erg (sand sea) between the Tinrhert Plateau to the north and the Fadnoun Plateau to the south. Credit: NASA
Have you noticed how little information comes via social media from this event? A quick look at the map and you can tell that there can't be many eyewitnesses to report from this drama, isolated as the place is in a very unfriendly landscape. As a consequence we receive all information – and misinformation – through the regular media and official channels like embassies and heads of state offices. It has been like a flash back in history. Before we had social media we had to live with this kind of (lack of) information in any event. In a very short time we have become used to be able to check alternative sources of information in social media. Social media is most often where you go to find information first. Crisis managers are working on ways of integrating this information now in reliable ways. (
UNSPIDER
and
OCHA
)
We all agree that information should be open and freely accessible etc. The terror attack in In Amenas is a good example of situations where it is a good thing not having social media information flying around and about freely. Information is gold and in this case those who would benefit the most from information would have been the terrorists. In the psychological warfare that arises from taking hostages it is best that the terrorists do not get any kind of information that could help them in their despicable play.
This goes also for Earth observations like satellite images. We are working towards more open access, real-time and higher quality. For instance, ESA is launching the first of the Sentinel satellites this year. These satellites will provide satellite images with similar high resolution quality as the Digitalglobe image from London showed above. A few years from now I am sure we will have near real-time services that will provide satellite images where we could see unprecedented details easily misused by say terrorists.
In the future we will have to consider including shut-off routines of these kind of services in cases of sensitive situations like the one in In Amenas. I think that is one thing we can learn from the In Amenas attack.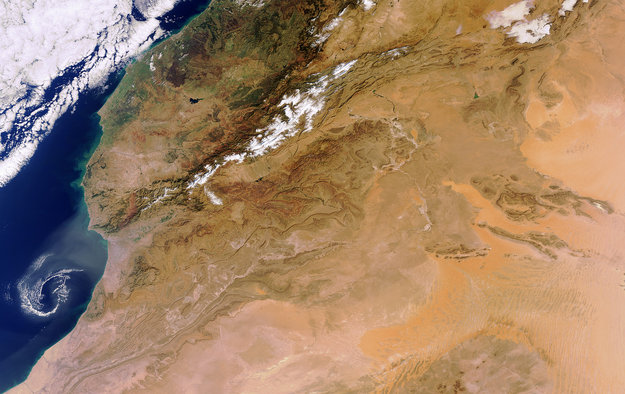 The Atlas mountains with the Atlantic and Morocco to the left and Algeria to the right. Credit: ESA
I love atlases and all things maps. And of course there is a place on Earth called Atlas. The Atlas mountains is stretching from Morocco to Algeria, halting the Sahara before reaching all the way to the Atlantic in the northern part of Africa. Lets hope we will live to see terror come to an halt some day as well.