Our Earth observation capacity is growing. Not only are star satellite data providers such as NASA and ESA improving their high quality products, new economies such as China and Brazil invest parts of their new won wealth in remote sensing as well.
Below you will find some of my favorite satellite images published in 2012. I will use this opportunity to encourage the 'new comers' to follow the lead of NASA and ESA and prepare more satellite images for non-expert public consumption. NASA has understood that science is culture and published a book (Earth as art) with
images of our planet that are downright pieces of art.
Unintended art you might say. This unintended art functions as [sneak] science outreach – giving the people a drop or two of new knowledge about our wonderful planet.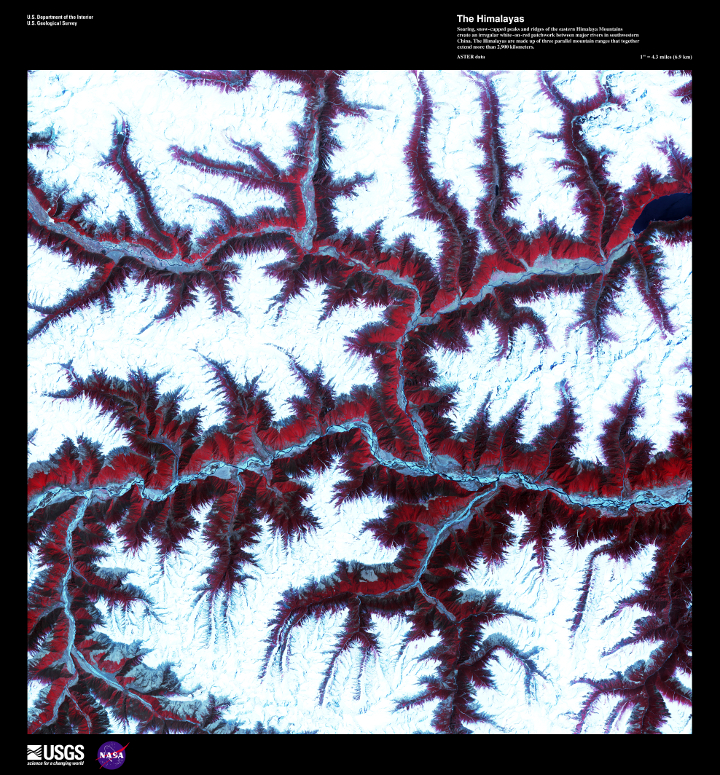 The Himalayas is very special to me personally as I have travelled there extensively. I can thank friends and colleagues at the Chinese National Administration of Surveying, Mapping and Geoinformation for that, particularly JiangQi Zhang who, among other achievements, measured the hight of Mt. Everest (that is geodesy). The above image happens to be one of my all time favourites also due to its esthetics. It is a Landsat image and you can find many more satellite art images here.
CEOS
, the committee on Earth observation satellites, published a special edition of their Earth Observation Handbook in connection with the Rio +20 summit.
The Handbook
highlights the importance of space-based observations for understanding and managing climate change and our environment in general. This year, in 2013, the
35th International Symposium on Remote Sensing of Environment
will take place in Beijing, China. The Symposium will celebrate its 50th anniversary by summarizing the development of remote sensing to date as well as looking into the future.
Back to 2012. My private and personal collection consists of a combination of 'most beautiful' and 'most interesting' images reflecting the development and events in Earth observations in 2012. I have chosen to focus on the visual element, but I have given a lot of link love (as I very well should) to each of the images so that you can learn more if you have time and are interested. If not, just sit back and indulge in satellite eye-candy.
Abstract paintings
The book
Earth as art
shows images taken by Landsat - a satellite managed by NASA and
USGS
. NASA is world leading in outreach and has been way ahead of the other space agencies for a long time. I am very pleased to see that ESA now has increased their outreach efforts. Their
new website
and the image below illustrates that they very well can catch up with NASA.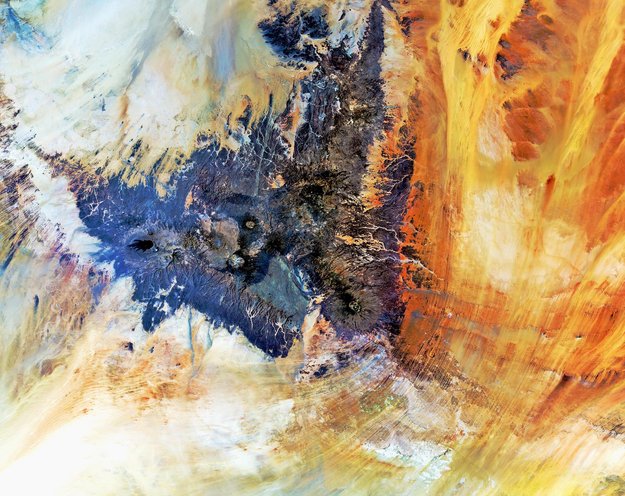 Moving from Tibet to Tibesi - from the source of water to millions of people to one of the driest places on Earth. A very different look, but definitely one of the top 2012 satellite images. With this ESA moves to another level all together. Way to go! Credit:ESASnow-cover
It is winter time and as a Norwegian I really enjoy the snow. It makes the world a lot lighter in the North and gives us an opportunity to go skiing. For this reason I have picked three images with snow. Again, you'll see the fractals as is evident in The Himalayas image above as well. That is of course part of the fun for us who have studied mathematics...
Siberia covered in snow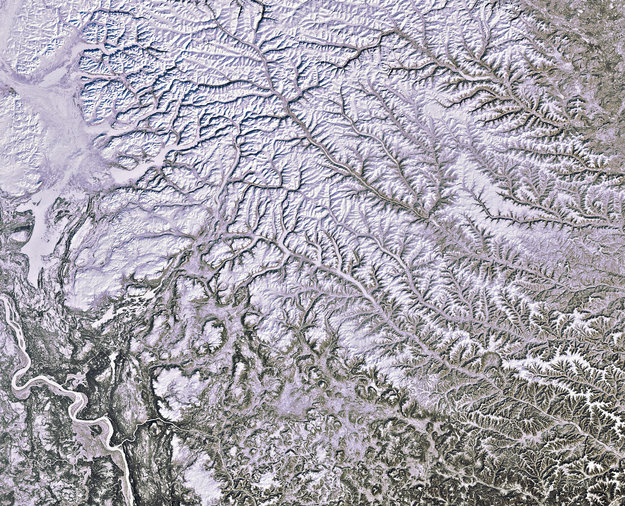 No lack of snow in Siberia. One problem of the cold regions like this is that it really gets COLD. Credit: ESA.
Snowkiss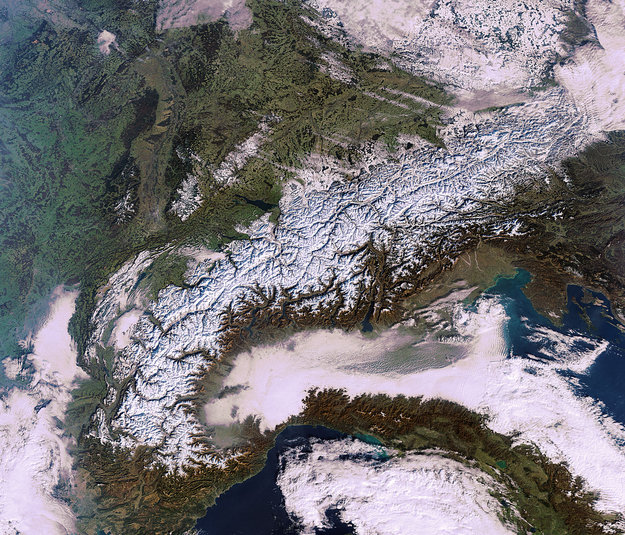 I love the Alps. From all angels - here from above. Credit: ESA
Greenland glaciers
Iceberg production in Greenland. Icebergs that are dangerous for maritime transport. This beautiful image is from the Kangerdlugssuaq glacier. In 2012 it was a 100 years since Titanic was hit by an iceberg and sank. This year also showed a record low in sea ice.Mistaken for a snake
Rivers form snakelike patterns quite evident when seen from space. Here are a couple of my favouritesfrom 2012.
Amazon river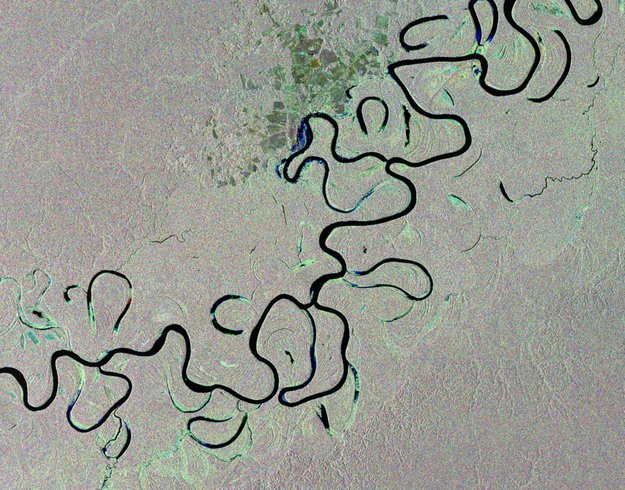 This satellite image shows where the river runs (like a snake) while in other images we see only trees. Credit: ESA
River Nile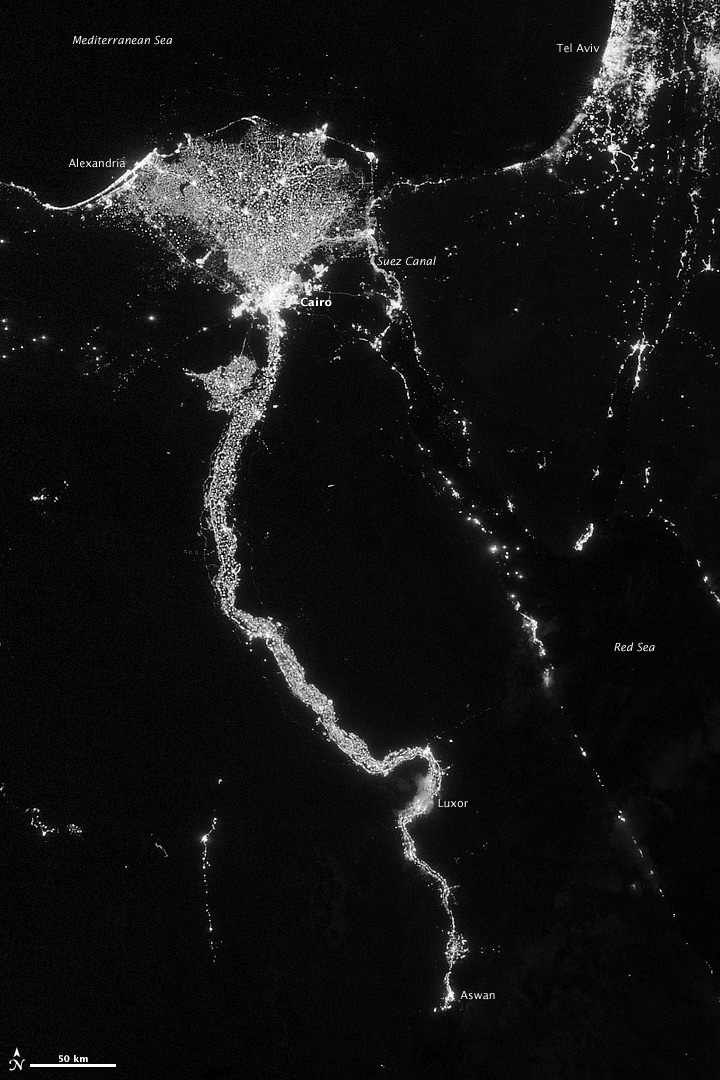 Night images of the Earth can be quite revealing. This shows where all the activities take place in Egypt - along the river Nile. Credit: NASADeserts
The last few years we've experienced a number of sever droughts. The Earth observation community is mobilizing its resources so that we can manage these events with too little water better. Deserts are the one place where you do not expect to find water in the first place.
Golden Curves – Iran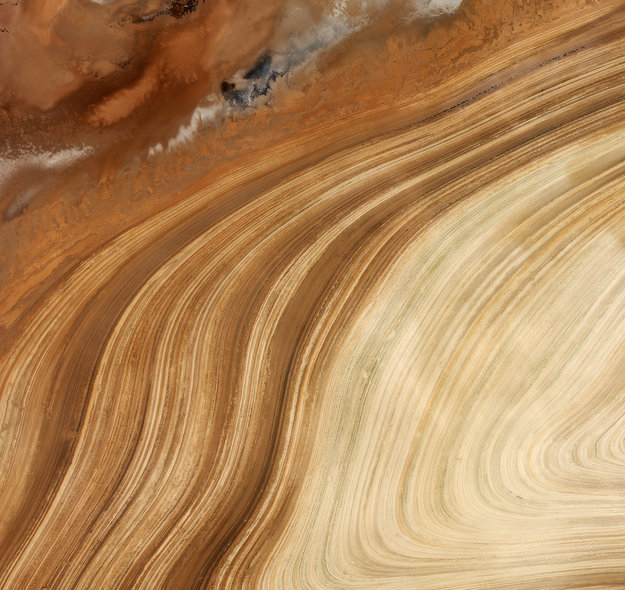 These lovely lines can be found in Iran. Credit: ESA
Algerian sands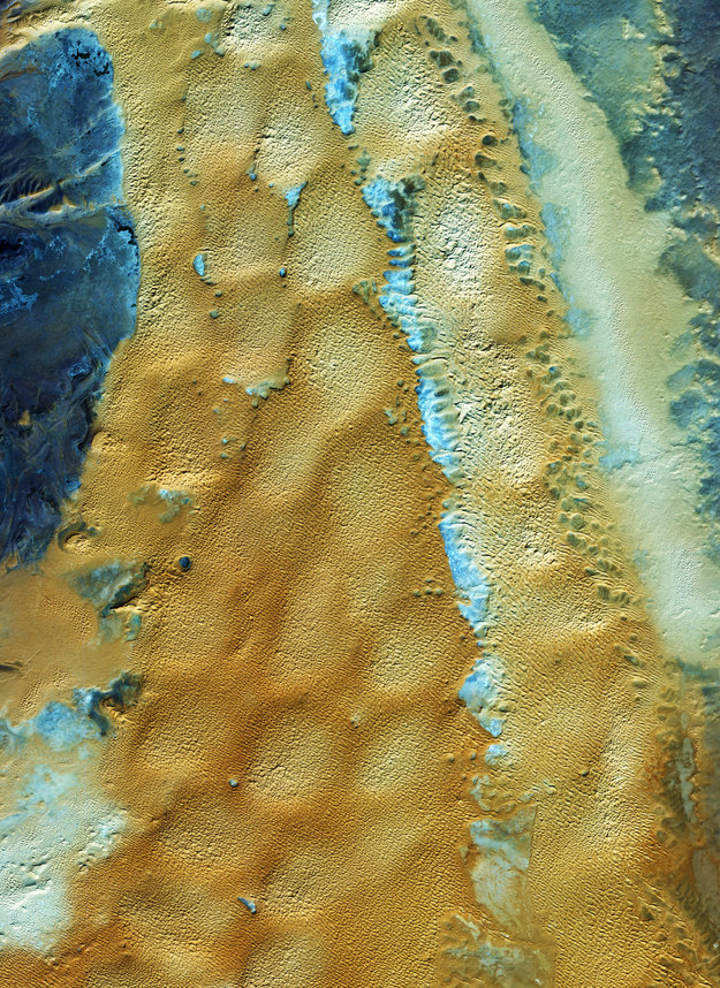 Lovely formation in the Sahara desert. Sahara crosses the African continent and this image is from Western Algeria. Credit: EUSIOceans
Oceans cover around 70% of the Earth's surface. Thanks to satellites we know a lot more about this vast life giving area.
Ocean currents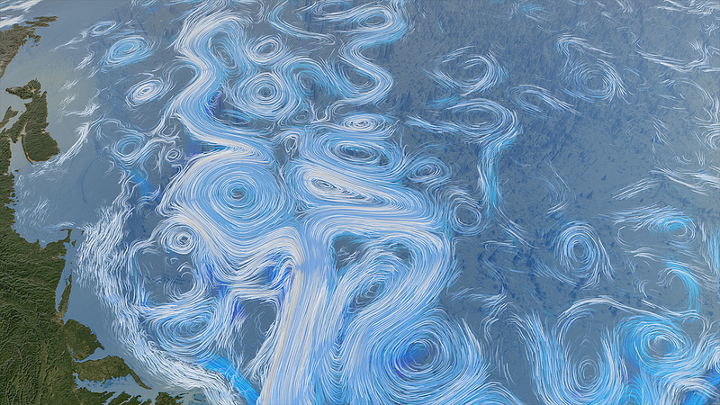 This looks like a painting by van Gogh. No doubt. It is an animation of ocean currents off the coast of Florida. Credit: NASA
Algae bloom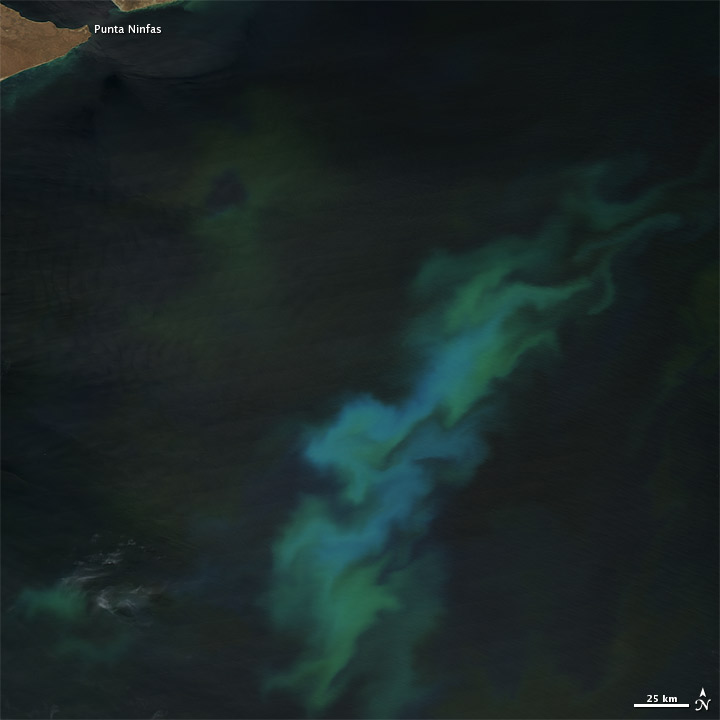 Algae blooms just look amazing. Over and over again. This image of the bloom outside Argentina is my favourite this year. Credit: NASA
Sandy
When hurricanes that are created out in the oceans make a landfall we are in trouble. In 2012 the hurricane Sandy made a very damaging landfall both in the Caribbean and on the East coast of the US. NASA reports that articles and images of Sandy was among the
most popular material
on their website in 2012.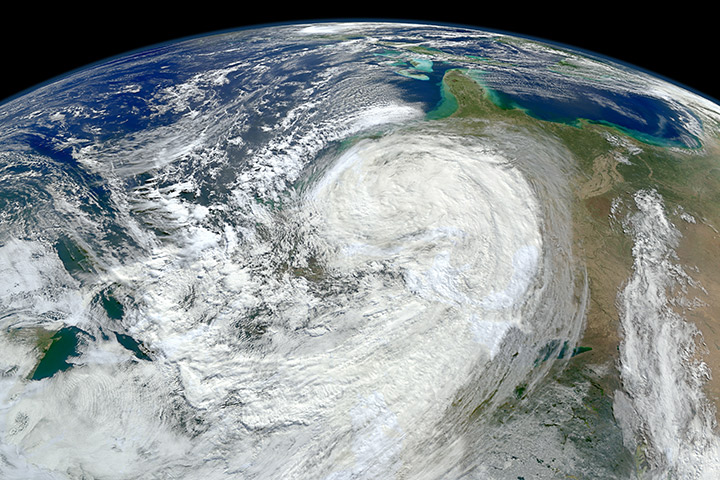 There are many great and interesting images of the hurricane Sandy. Here you get a good overview looking South with the tip of Florida clearly visible. Credit: NASABlack Marble.
NASA's Blue marble images of the Earth are famous. NASA took it a step further and produced a new marble – the
black marble.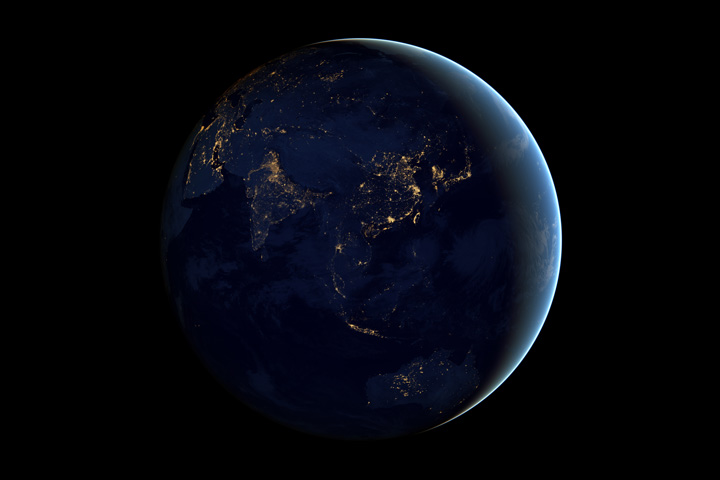 We are mesmerized by satellite images of our planet at night. Here we see how Asia looks like in electric light. Credit: NASAPatchwork

Agricultureisn't what it was. The first time I visited Texas I was in awe over the regular geometry of the fields - and of course of the mere size of them! Everything is bigger in Texas. I have always appreciated these 'agriometric' (geometry patterns) patchwork views from space. It is tempting to quilt!
Po – fields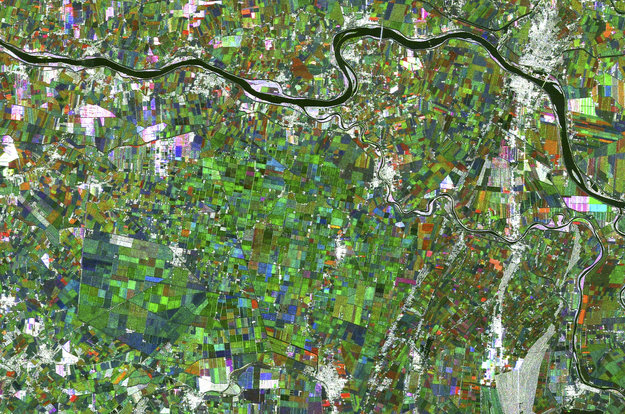 Agricultural activity along the river Po. Credit: ESA
Kansas by Landsat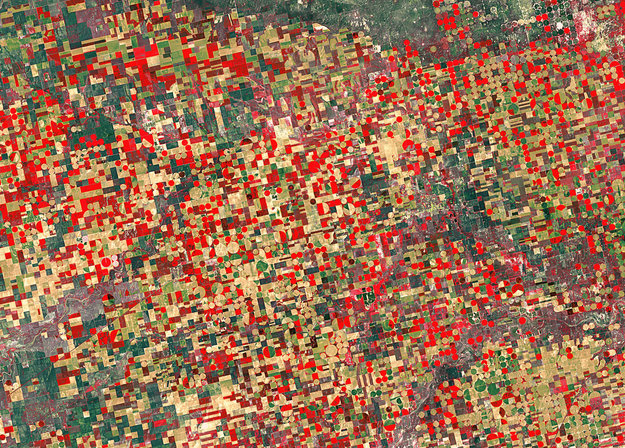 I once flew over Kansas. This view is way more fabulous though. Credit: NASA/USGSUrbanization
The world population migrates towards the cities. By now more than 50% of all the inhabitants of this planet live in urban areas.
Dubai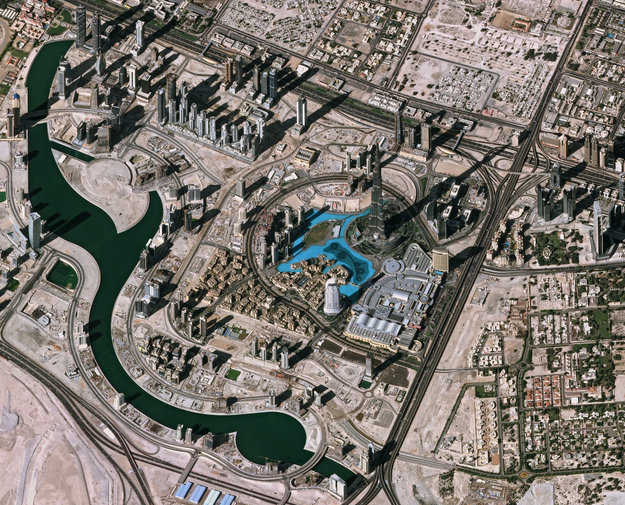 In this very high resolution image you'll find the world tallest building (by the intense blue fake-lake). The place is Dubai. The image makes me think of all the hours I've spent playing SimCity. I think I need to go do some urban planning again - it is so much fun! Credit: CNES 2012/Astrium Services/Spot Image
Never ending Manhattan project.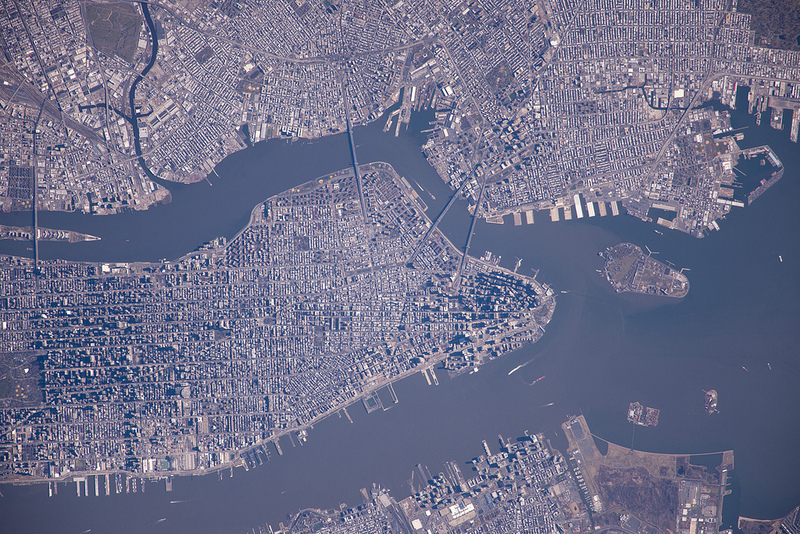 I never get tired of looking at Manhattan from space. It is perhaps the city most of us recognize also from above. Credit: NASA
Sport Events
And finally, some sports. I think I can observe a trend in publishing satellite images in connection with big events. Definitely with the Olympic Games. We saw several satellite images of Beijing in 2008 and in 2012 it was London's turn.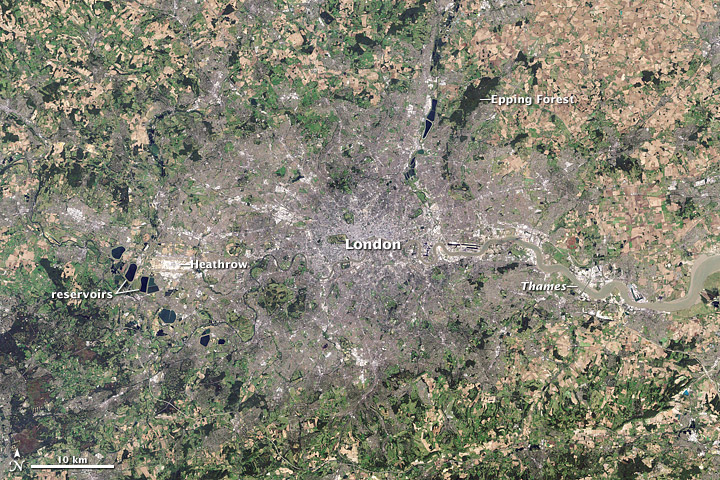 The Olympic games took place in London and of course there were satellite images!Credit: NASAThe death of a satellite – the pregnancy and birth of new ones
Death
ESA lost contact with Envisat in April. The very last image is of Spain's Canary Islands. Envisat lived for 10 years. Credit: ESA/Edisoft
Pregnancy
The Sentinels will give us a
new set of high resolution
amazing satellite images.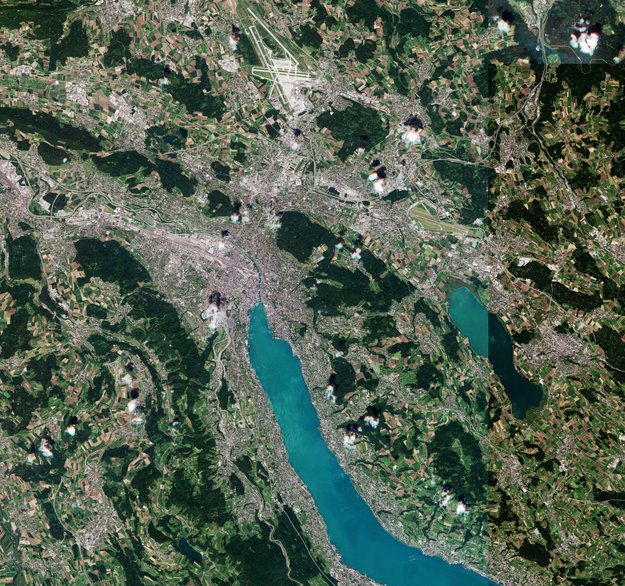 An example of the expected quality can be seen in this image of Zürich, Switzerland. Download the large image here and see how you can zoom in on buildings and roads. Amazing things to expect from Sentinel-2 set to be launched later this year.Credit: RapidEye
Birth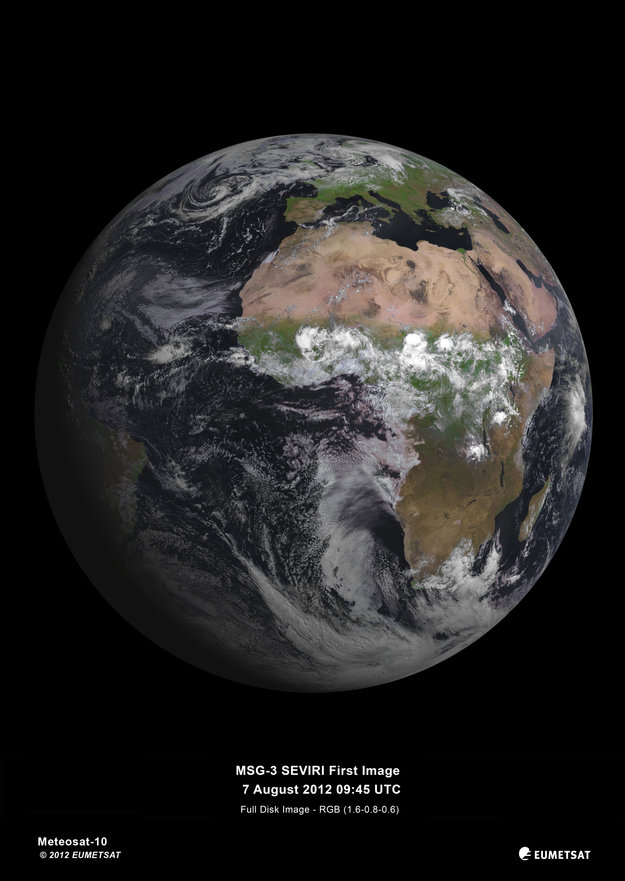 Europe successfully launched a new satellite in 2012, the MSG-3, and here is the first image of the Earth taken by this new satellite. Credit: EUMETSAT
Do you have any favorites? If you have discovered good work from Asian or South-American remote sensing providers, please let me know. I have vacuumed the net looking for images but they are really hard to find and not presented in a sufficient quality for esthetic publications.
JAXA
in Japan and also
Roscosmos
in Russia have had remote sensing products for a long time, but in my opinion they would benefit from better presentations and access. If you think this is unfair of me, do let me know – and give me links to prove me wrong.
All the best wishes for 2013!