You may not know the name Hammer Films, but if you have watched movies at all you have probably heard of Peter Cushing and Christopher Lee. In 1957 they appeared in a British 'horror' movie called
THE CURSE OF FRANKENSTEIN
and it put both of them, and the studio, on the cultural map.
The low budget Hammer studio chose 'Frankenstein' because it was in the public domain and they felt like it needed a more modern telling than the 1931 Universal Pictures version. Christopher Lee made the monster his own in almost the same way Boris Karloff did (though Karloff, with the makeup, is the image people still have today) and Cushing made Dr. Frankenstein more than a one-dimensional mad scientist. The movie was a hit among audiences yearning for more than the radiated insects of the day and the horror formula worked well, to lessening degree, for nearly 20 years before the studio was finished
(1)
.
But Hammer Films made more than vampire movies and monster movies (and later, as they began to struggle, lesbian vampire monster movies
(2)
), they also made what we have to call Horror Science Fiction (think "Alien" two decades later) and, since Halloween has always meant more to me than ghosts and vampires
(3)
, one of those is my first entry in "5 Days of Halloween Movies" - 5 MILLION YEARS TO EARTH - because it has everything a science audience could want this week.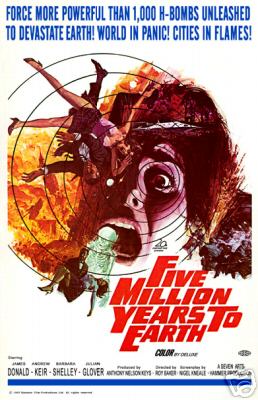 For one thing, it stars science, specifically a professor - nothing new in the 1950s but less common in the 1960s. It also incorporates evolution, palaeontology, anthropology, aliens from Mars, history, military characters that are more than one-dimensional (I'm talking to you, James Cameron), etymology, eugenics, the Devil and religion - you name it, this movie has it all.
The movie was based on a British series about Professor Bernard Quatermass - the third Hammer film featuring Quatermass, the first one being what got Hammer Films noticed by American distributors in 1955 ("The Quatermass Xperiment" became "The Creeping Unknown" in the US). Without giving away too much meaningful, the plot centers on the discovery of a rocket in a 'pit' for an extension of the subway in London. They believe (and tell the public, to avoid panic) at first it is a German rocket left over from World War II so the military is called in but then they discover ancient bodies 5 million old - when they find out the rocket is not a German rocket at all but something that could only come from outer space, the tension grows ... but don't think it is a simple 'monsters from space' event, it is science fiction in the classic tradition.
One of the best things a studio can do, when possible, is to get a scriptwriter who understands the pacing of film and who wrote the original to tackle the screenplay. There isn't a minute of wasted film, though you have to ignore the 'special effects' in this one, like you must in all Hammer Films. Bouncing cinder blocks and tiny models of famous London landmarks will make you giggle but the way the plot nicely incorporates and then wraps up all of the details I provided above is impressive.
NOTES:
(1)
Though they went down swinging. "To the Devil...a Daughter" had Christopher Lee, Richard Widmark, Honor Blackman and
Nastassja Kinski in the cast. Not too shabby. The next generation of filmmakers to do this, though, would be Uwe Boll and the like, who made bad movies from well known names (then books, today video games) where they could make more money by losing it than they could by making it. Thanks, German tax laws.
(2)
Seriously, check out this clip from "Lust For a Vampire" - it's silly but you get the idea.