Though the World Series is over, baseball never really ends in the modern era. There are MVP announcements, free agency and then the winter meetings. Before we know it, it will be February and pitchers and catchers reporting for spring training in Florida and Arizona.
So it's time to talk about 'the best' in an area. We've tackled
does a curveball really curve?
and
who hit the farthest home run?
Since Clayton Kershaw of the Los Angeles Dodgers has shown himself to be in Warren Spahn/Sandy Koufax territory when it comes to left-handed pitching I was thinking about
the greatest left-handed players
overall -
and it turns out Home Run Monkey already tackled it
.
What did they get right and where do they need some help? They get the number one pick right. Off the top of any casual fan's head, the conversation would start and end with
Babe Ruth
- because he was a lights-out pitcher before a smart team owner decided his bat was too valuable to only have in there every 4 days. That makes him the greatest player of all time, period, and so there can't be much argument he is the greatest left-hander.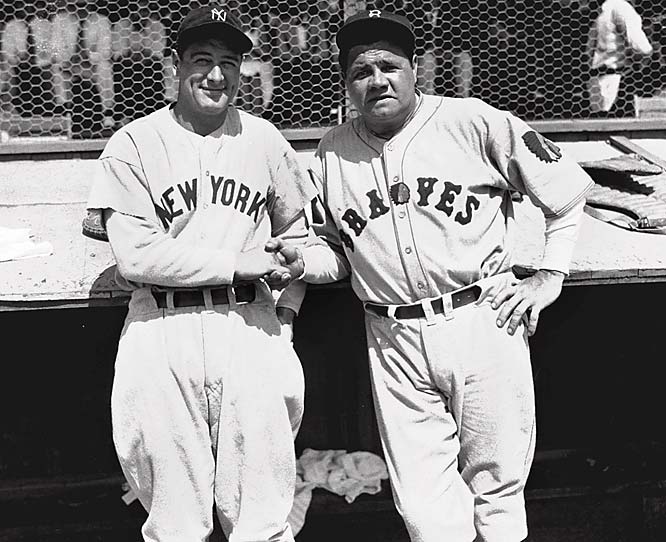 Lou Gehrig and Babe Ruth in 1935. Yes, The Babe is in a Braves uniform. The Yankees released him because he had batted .288 with 22 home runs in 1934. Neil Walker of the Pittsburgh Pirates won the 2014 Silver Slugger award for all National League second basemen with 23 home runs and a .271 batting average, while the current right fielder for the Yankees, Ichiro Suzuki, had 1 home run and batted .284. In fairness to the Yankees, it isn't like they could move Ruth to first base, since Gehrig looked like he was going to play so long he might die out there - and almost did, due to the disease that bears his name and that killed him a few years later.
But what about pure hitting? The Yankees had a fascinating thing happen to them in the 1920s. They had a pretty standard system, the player number would be based on where he batted, and it turned into a marketing legend. Babe Ruth was a great hitter but he didn't even bat clean-up on his own team, that honor went to Lou Gehrig, who had the number 4 to Ruth's number 3. Yes, Lou Gehrig was so good he was 'protection' for The Bambino, the guy who made sure they could not pitch around Ruth.
When Joe DiMaggio came up from the minors, he got the number 9 and then number 5 but he batted third, where Ruth used to be. Why not 3? By then, the Yankees clearly had a marketing gimmick - they designated DiMaggio as the heir apparent to Ruth and Gehrig and gave him the number to show it. 15 years later, the guy who would become number 6 in that dynasty was none other than Mickey Mantle. "The law of mathematical progression," Yankees public relations director Red Patterson later said about giving Mantle that number 6.
When Joltin' Joe announced his retirement in 1951, the team said Mantle would take over for him - literally and figuratively, in center field with the number 6. But The Mick didn't start off well and he got sent down to the minors again. By the time he came back in the summer, the team had given the number 6 back to third baseman Bobby Brown, so Mantle got number 7, from the player who got sent down so Mantle could take his spot on the roster. Mickey got left out of the succession in that sense, though not from the Hall of Fame.
What don't you see in discussions about great left-handers beyond Ruth, along with legends like
Ted Williams
,
Stan Musial
and, like it or not,
Barry Bonds
?
Mickey Mantle
. He was not left-handed, he was just such a great hitter that he learned to bat from both sides because his father said it was a good idea.
But Mantle hit
372 homers left-handed
and only 164 right-handed - neither alone is enough to put him near the top in discussions of best hitters, he is actually penalized for doing both. But who would you want in your center field spot with the game on the line?
Back to Bonds. Like Williams, he was not a good fielder so 'best player' isn't really accurate, but his hitting was too important to ignore. Bonds is embroiled in controversy because of steroids allegations - to his credit, we know that steroids caused big years and then immediate flame-outs, like with Ken Caminiti and others. Bonds lasted a decade after he is alleged to have done them. Was he competitive? Sure, and he know doubt used every scientific method available, but he it hasn't been proved he used things that are banned. It still may prevent him from getting into the Hall of Fame but it can't prevent him from being on a greatest left-hander list.
As evidence, look at his ridiculous Strat-O-Matic card from 2001:
Link:
How To Simulate Your Own Baseball Game
That is unreal. Steroids do not make people connect with the ball that way. Do they bring people back from injuries faster? Sure, but he was not injured a lot then. They help poorer players become better ones but even if they added 9% to the home runs of Bonds, he still beats Ruth and Maris and McGwire.
Home Run Monkey gets it wrong by having Griffey, Jr. in their list instead of Bonds but that's okay, that is why it is a debate. Gwynn belongs, since he is the only guy we know that Ted Williams actually sought out to talk about hitting - he knew Gwynn had the same ocularity that he and Musial had.
What About Pitchers?
As a long-time Dodgers fan, a guy who spent his formative years in Dodgertown, it is bordering on blasphemy to not put Sandy Koufax at the top of a greatest left-handed pitcher's list. But this is for the audience so I have to go past partisanship. Warren Spahn shows up last on the
Home Run Monkey list
and that is a mistake - he won more games
after the age that Koufax retired
than Koufax won his whole career.
Randy Johnson is a compelling argument to be number one. He was so feared that the image of John Kruk bailing out of the batter's box for an entire at-bat after a Johnson wild pitch in an All-Star Game still gets fans laughing. Kruk said that when he went to the plate all he wanted to do was make contact but after that first pitch, all he wanted to do was live - and he did, so he called it a good at-bat:
I say 'compelling' because there have been a lot of great left-handed pitchers. Lefty Grove and Steve Carlton come to mind. Whitey Ford rarely gets mentioned but he actually had a better career ERA than Koufax.
And Carl Hubbell not only had a career 2.98 ERA, which was better than Grove, Johnson, Spahn and Carlton, he struck out Babe Ruth, Lou Gehrig, Jimmie Foxx, Al Simmons and Joe Cronin in the 1934 All-Star Game - all in a row.
As mentioned, Clayton Kershaw of the Los Angeles Dodgers could be in contention for this list if his torrid pace continues.