Quick, who was the feared hitter that legendary baseball numbers guru Bill James says lost more career home runs due to playing in his
home
park than any player in history?
If you guessed Joe DiMaggio then you, like me, regard him as the greatest player of all time(1); he was Willie Mays, except without the loose cap and able to read hitters so perfectly he rarely had to fly all over the field. Yankee Stadium, "The House That Ruth Built" had a short right field fence, to benefit its archetype left handed hitter, and a cavernous left field, 457 feet at left center(2). As we discussed in
The Science Of Baseball: What Is The Farthest Home Run (And Did Mickey Mantle Hit It)?
a 500 foot home run is a true rarity and the longest home run in Yankee Stadium this year has been 477 feet. So Joe D. had some disadvantages arriving after Ruth.
DiMaggio had 8 more strike outs than home runs so you can imagine in a field with more normal dimensions - and not departing for World War II - he would have had even more spectacular career home run results, along with that 56 game hitting streak.
But neither Ruth nor Joe D. ever saw anything like the launching pad the Yankees play in today. It's either a miracle of engineering or the biggest physics mistake since the Tacoma Narrows Bridge.
Tacoma Narrows. Before Yankee Stadium, this was the best example of what happens when you don't properly account for the physics of fluid flow.
Playing in their swanky new billion-dollar-plus stadium, there have been 3.78 home runs per game there this season . That's 87 home runs in 23 games, almost a full home run per game over the distant number two park. Consider that in 2008 the San Francisco Giants had 94 home runs throughout the entire 2008 82 game season and at this time last year, in the old Yankee Stadium (cost: $1.5 billion or so cheaper) there were only 46 taters by now.(3)
What explains it? Plain old physics of baseball. And it's not even a New York summer yet. As we discussed
earlier
, a hot day makes the ball travel even farther and we've already been treated to a Nick Swisher home run after he got jammed in on the hands and a broken bat home run by Mark Teixeira.
What accounts for such cheap homers? A combination of a predictable westerly wind and some fairly bad design that ignored it. Dennis Torok, wind engineer for Newmerical Technologies,
told USA Today reporter Joan Murphy
that the current roof design creates a 'jet stream' where the wind current swoops down onto the field and then rises again when exiting. Bernoulli would be so proud. But that's bad for baseball because records are cherished and we want to believe that it , and its records, are consistent.(4)
Why the hubbub? Because the controversy has become so ridiculous to purists that
NY state assemblyman Richard Brodsky told USA Today reporter Mel Antonen:
"If the Yankees want to build a bad stadium with their own money, that's their business. But if it is done with public money, then that's a different issue. There could come a time when we have to ask, 'Was the taxpayers' money spent well?' And that would be a perfectly legitimate question."
Well, it's not legitimate. It's a $1.5 billion stadium the taxpayers helped buy for the most valuable sports franchise in the world. Complaining about too many home runs seems a little silly.
But baseball people like their records. We all know what Roger Maris got for beating Babe Ruth's home run record but taking an extra 8 games to do it - okay, nothing, that business about an asterisk next to the record never happened but people think it did.
Here's a wind rose showing the directional probability of wind in New York, courtesy of Dennis Torok (graphic by Bob Laird and Karl Gelles - USA Today):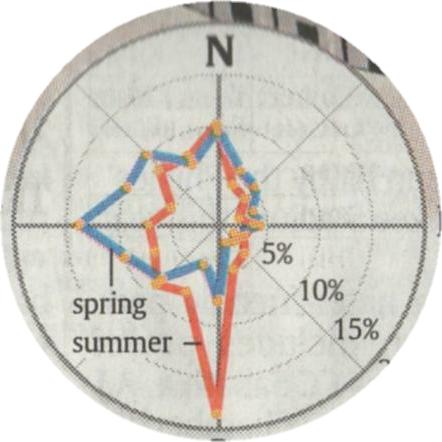 13.5% of the time the wind is coming straight from the west. The even better news; the direction shifts in the summer so that percentage will come from the south, meaning more home runs out of left field too. That means for right-handed hitter Alex Rodriguez, already the youngest player to reach 500 home runs, the party is just getting started. Not only can he reach 800 home runs for his career, an exceptionally hot NY summer and no injuries could have him hitting 90 in a single season.
Will that happen? Not likely. Baseball is too important to New York. If a player in New York is going to beat Babe Ruth's record, it won't be in a rigged stadium - even though Babe Ruth's stadium was. So they'll add some sort of structure that will properly deflect the wind in the offseason, but not before we see a lot more broken-bat moon shots that get ridiculed on ESPN.
NOTES:
(1) Tough call, of course. Babe Ruth was also a phenomenal pitcher (94-46 with a 2.28 ERA lifetime), which adds to his claim as the greatest. His sale by the Boston Red Sox led to their 20th century" curse of the Bambino", which is a nice bonus. In addition, when he broke Roger Connor's career home run record of 138, it was certainly impressive, but he then proceeded to break that record 575 more times. So I don't say Joe DiMaggio without having thought it over.
(2) Ted Williams had the opposite problem with the Big Green Monster in left, and still hit 521 home runs while missing 5 years of his career during two wars. Imagine if he and Joe DiMaggio had been on opposite teams? 'The Splendid Splinter' was not just a baseball legend. He is also a member of the IGFA Fishing Hall of Fame.
(3) Says the Elias Sports Bureau. I am not double checking their numbers.
(4) On the day in June of 1876 when General George Custer made his dumbest, and last, mistake at Little Big Horn in Montana, the Chicago White Stockings played the Cincinnati Red Stockings; both teams wore knickers and will do so again this month.
BONUS NOTE: Read John Updike's classic piece, "
Hub Fans Bid Kid Adieu
", considered the greatest piece of (American) sports writing and is about the last at-bat of Ted Williams - a home run, of course.