Don't have room in your stomach for 36 eggs but you really want those equivalent calories in one delicious treat? Head to
The Cheesecake Factory with me and get their
French Toast Napoleon, which is basically bread dunked in cream and powdered sugar. It clocks in at a delightful
2,530 calories(!)
If a traditional dinner is more your thing, that
bastion of gluttony has a Fettucine Alfredo with Chicken that still provides you with 2,300 calories - essential if you happen to be swimming to Cuba shortly afterward. Since I am not a marathon swimmer, I'd feel cheated if I ate 2,300 calories and only got one dish. I don't know how many calories we eat when we visit Hometown Buffet but since they charge children by age, I notify them that my 7- and 9-year-old boys eat like they are 17. The cashier always laughs because my kids are thinner than just one leg on many of the people in a Hometown Buffet, but they can't say they were not warned when the 9-year-old goes back for his 12th plate.
David Zinczenko and Matt Goulding, authors of Eat This, Not That!

have updated
their "20 Worst Foods in America" list for 2013, which means me and my two sons have some new choices for restaurants to visit in the upcoming year.
So we are looking forward to
Chili's Shiner Bock BBQ Ribs (full rack, of course) and its
2,330 calories and 6,490 mg of sodium. Don't let them skimp on the c
innamon apples and homestyle fries! I get soooo tired of hearing how healthy fish is so I am pleased Applebee's has made a fish dish I can stomach;
their New England Fish&Chips can offer me
1,930 calories and 138 grams of fat. That's more like it! I guess I can put up with some Omega-3s for that.
I just returned from Florida and I didn't get to visit a Perkins while there and I really regret that now. Next time I am back east I intend to get their
Southern Fried Chicken Biscuit Platter. Why? It's not for the
fried chicken, fried eggs and cheese, biscuits and gravy, bacon, or even the hash browns, nor is it for the
1,860 calories and 6,680 mg sodium, it's because it has the word platter in the title. When I see the word 'platter' on a menu, I am ordering it.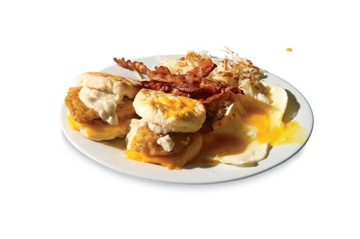 I hope this screenshot of the Perkins platter is accurate.
Not making the list:
Outback Steakhouse and it's Bloomin' Onion. At only 1,949 calories, it is relatively laughable in its gastronomical destructiveness. Plus, I think onions are vegetables. I don't do vegetables.