Sauna has long been a cottage industry in Finland and the entire Northern hemisphere, with Scandinavians and Russians claiming to have used saunas for cleansing and relaxation for over 2,500 years.
Saunas are the new Prius, with various studies claiming a positive influence on general health.
A recent study(1) conducted in 41 healthy volunteers and presented in Dermatology says that regular sauna also has a positive effect on skin physiology.
Well, duh, you may think, every sauna aficionado has said that all along. True, but it was never scientifically proven until now. Kowatzki, et al at the University of Jena say they have demonstrated that regular sauna leads to a more stable epidermal barrier function, an increase in stratum corneum hydration and faster recovery of both elevated water loss and skin pH.
Even better, they say heart beat rate and ionic concentration in sweat as well as epidermal blood perfusion was like any other sort of body training - the more you do it, the more your skin and heart seem to benefit.
Sauna - the sport
Like anything that can be beneficial in moderation, some people will make it an extreme sport.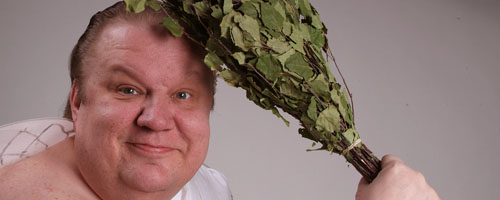 See you in Finland!
If you aren't aware, the
Sauna World Championships
are being held this weekend in Heinola, Finland.
At 110 degrees Celsius (230 Fahrenheit) you probably wouldn't last long. Even the winners in the mens and womens divisions will only last around 12 and 10 minutes, respectively. And they're pros.
The good news is you aren't stuck sitting around for 8 days without knowing who's going to win, like some other sporting event this weekend, namely that thing called The Olympics. And in Heinola you are sure to win if you bet on someone with a difficult name to pronounce to emerge victorious.
A 230 degree Fahrenheit trip to Hell too much for you? A nicer hot spring might do the trick. Here are 5 terrific locations to take a relaxing dip without all the sweaty large men staring you down.
Top 5 locations to take a nice hot bath
Icaria in Greece. By its name you can guess that the name (and the heat) is related to the wayward son of Daedalus. The hot springs here have been used for healing goodness since 2,000 BC. BONUS: They are also known for being the most radioactive springs in Europe.
Aguas Calientes in Peru, with varying springs of different temperatures and altitudes, is delightful this time of year. BONUS: Visit Machu Picchu while you are there. Pretend to sacrifice your sister for fun.
Like monkeys? Japan's Jigokudani Monkey Park in Nagana Prefecture has 'snow monkeys'(Macaque Fuscata) on display taking a dip in their own special place. No, you can't bathe with them. Human springs are just down the way though, so you can do your own macaquing around.
Feel like making an Olympics protest without getting clubbed by police? Yangbajing in Tibet has terrific hot springs at 14,000 feet in the air. Enrage the Communist Chinese and get some relaxation in at the same time.
Finally, check out Geysir in the Haukadalur valley, Iceland. It's the oldest geyser in the world, keeping you hot since 1294. So stay fit and learn a history fact at the same time.
Can't swing a plane ticket to those ideal locations? Here's how to make your own sauna, according to expert Finnish specifications. Facing West is all you really need to know.
REFERENCES:
(1) Article: Kowatzki, D. et al.: Effect of Regular Sauna on Epidermal Barrier Function and Stratum Corneum Water-Holding Capacity in vivo in Humans: A Controlled Study, Dermatology 2008;217:173-180 (DOI:10.1159/000137283)